Thom Mason, the internationally recognized director of the Oak Ridge National Laboratory, is leaving this summer to take a position with Battelle.
Mason's departure is effective July 1, according to Morgan McCorkle, a science writer at ORNL.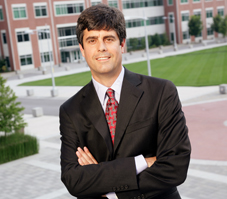 He's directed the lab, which has about 4,700 staff members, since 2007. But Mason began at the lab almost 19 years ago, according to McCorkle.
Battelle manages and operates the lab along with the University of Tennessee.
A regular guest of WBIR's "Inside Tennessee," Mason announced he was leaving Friday in an email to the ORNL staff.
His departure was not unexpected. Respected in the science world, he's been viewed for years as a likely figure to move into another position.
Sen. Lamar Alexander of Tennessee praised Mason in a statement Friday as a "transformational leader."
"National laboratories are critical to our nation's competitiveness and because of his leadership Oak Ridge will continue to play a vital role in our nation's future" Alexander's statement reads. "I congratulate Thom on his new role at Battelle."
UT system President Joe DiPietro noted in a release that even though he's going to Ohio, Mason still will work with ORNL through Battelle's management.
In 2001, Mason became associate lab director for the Department of Energy's Spallation Neutron Source, a billion-dollar research center that produces neutrons which scientists from around the world use to conduct experiments.
Mason oversaw SNS's creation, directing a group of DOE labs in its design and construction.
Billy Stair, formerly the spokesman at the lab, first became acquainted with Mason when Mason was putting the SNS together.
"One can make a strong case that Oak Ridge National Laboratory is now the premier research laboratory in the world. They were certainly on that trajectory when Thom became director in 2007. But in the areas of energy, materials or high performance computing it's almost non-debatable that Oak Ridge leads the world, and Thom was certainly part of that," Stair told 10News.
Mason has also played a part in the state landing some big economic customers, said Stair, who now operates the Stair Public Affairs firm.
"Thom has been very instrumental over the last few years both with Gov. Bredesen and now Gov. Haslam in a number of success stories with the state of Tennessee, which have really contributed to the state's success in economic development," he said.
Operating within the Department of Energy, ORNL is a science and energy lab at which cutting-edge, international research is conducted in supercomputing, physics, chemistry, materials science and biology among other areas.
It was created during World War II as part of the Manhattan Project. The lab has an annual federal budget of $1.6 billion.
Mason, a physicist who was born in Nova Scotia and later became an American citizen, will be senior vice president for laboratory operations at Battelle in Columbus, Ohio. Battelle has overseen ORNL operations for DOE since April 2000.
ORNL said in a statement Friday it had created a search committee to find a replacement for Mason.