UPDATE: (WBIR - MARYVILLE) - After burning for hours, the fire in a rail car containing a hazardous liquid finally has been extinguished on a Blount County rail track, according to CSX.
The rail operator said the fire was out by 7 p.m. Thursday. The car carried about 24,000 gallons of Acrylonitrile, a flammable liquid used in various industrial processes including plastic manufacturing.
Thirty-five of the train's 57 cars had been removed as of Thursday night. Twenty-one will be removed once track repairs are made, according to CSX.
"The cause of the derailment is under investigation by the company and officials of the Federal Railroad Administration," according to CSX.
Twenty-seven of the train cars carried hazardous materials, including nine that had Acrylonitrile and were transported in pressurized tank cars.
As of 5 a.m. Friday, Blount Memorial Hospital had treated 87 people through the day and admitted 36 patients. None were critical, according to spokesman Josh West.
Residents impacted by the rail car derailment, fire and evacuation can call CSX with questions at 800-331-4031. Health-related inquiries should be directed to 866-812-9565.
PREVIOUS STORY: Authorities said at least 5,000 people were under a mandatory evacuation Thursday following an early-morning fire on a CSX train car in Blount County. Those residents are being warned they'll need somewhere else to spend the night tonight.
CSX said there were no injuries reported in the actual train derailment, which impacted a car carrying a hazardous liquid called Acrylonitrile.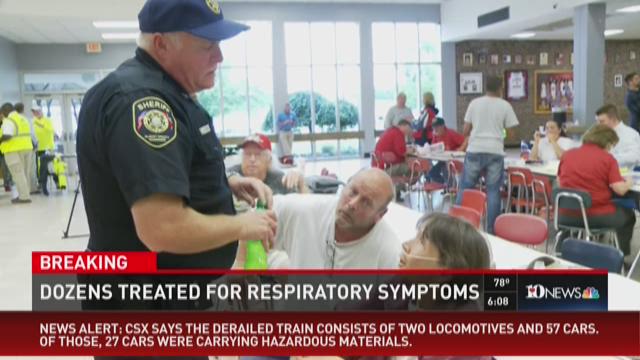 According to Blount Memorial Hospital spokesman Josh West, 52 people have come in for treatment of possible exposure to the chemical release, manifested mostly in respiratory symptoms. Twenty-five people have been admitted to the hospital so far.
West said so far as he knew no one had suffered potential life-threatening exposures.
East Tennessee Children's Hospital also treated and released three patients, consisting of two adults and a child, according to Seth Linkous, marketing director.
Officials said earlier the treatment number included 10 emergency responders who were complaining of burning eyes after the fire.
Dr. Hal Naramore, chief medical officer at Blount Memorial, said anyone who experiences any symptoms should seek medical treatment. The most likely treatment for the symptoms is breathing clean oxygen.
Among those on the scene are officials from the Environmental Protection Agency.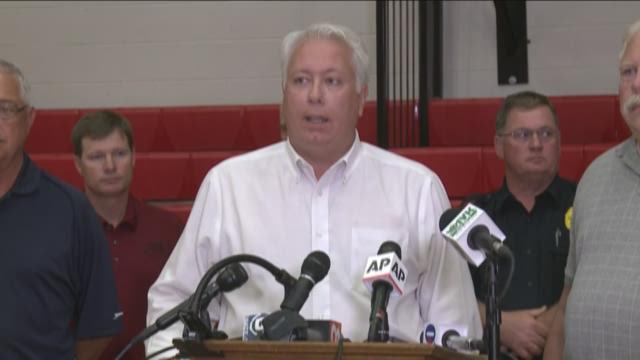 "The EPA has two of its on-scene coordinators and contractor support on scene assisting the state and local responders with air monitoring support and water quality monitoring," according to a statement Thursday afternoon from the Atlanta office. "Culton Creek is located in close proximity to the derailment site. Additional EPA staff are en route to help facilitate 24-hour response operations."
According to the EPA, it is conducting "roving air" monitoring activities around the evacuation zone.
"The EPA is also deploying an air monitoring array and will conduct water quality sampling as necessary. The EPA has also requested assistance with health and safety oversight from the U.S. Coast Guard Gulf Strike Team," according to the agency's statement.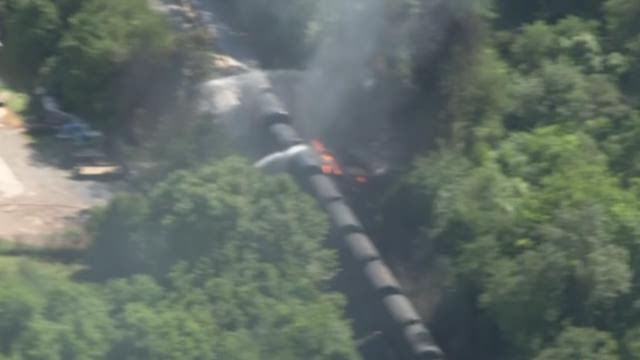 RAIL CAR ON FIRE
Around midnight, Craig Camuso, regional vice president for CSX, said they received a report that the car had derailed and caught fire near Old Mount Tabor Road, which is located off Highway 321, just west of the Foothills Mall.
The CSX train consisted of 57 cars, including 27 cars that were carrying hazardous material. Nine of those were carrying Acrylonitrile, which is a flammable and poisonous liquid. One of those cars partially derailed, with the wheels of one end of the car off the track, and began to burn. Officials do not know what caused the derailment.
According to the EPA's website, Acrylonitrile is primarily used in the manufacture of acrylic and modacrylic fibers. It's known to cause mucous membrane irritation, headaches, dizziness, and nausea.
The other cars were carrying propane and asphalt. The train was en route from Cincinnati to Waycross, Ga.
CSX said it is working with first responders following the train derailment, and praised the efforts of the local responders. They are in the process of setting up air and water monitoring for the area.
Any person affected by the evacuation can call CSX at 1-800-331-4031.
MORE: Business and road closures in Blount County following train fire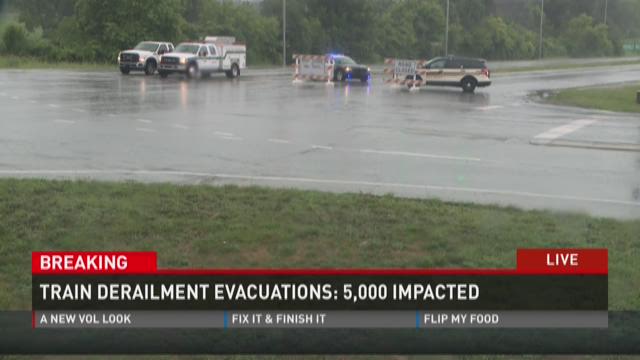 Mandatory evacuations of a nearby apartment complex started around 12:30 a.m. and it includes a one-and-a-half-mile radius.
Authorities also advise against drinking well water in the area until further notice due to water contamination. Affected residents can pick up drinking water at Heritage Middle School.
The Red Cross set up a shelter at Heritage High School outside of Maryville for those who do not have a place to stay while the evacuations are in effect. Authorities said evacuees cannot bring pets to the Red Cross shelter at Heritage High School.
CSX also was using the high school as a place to issue vouchers and reimburse evacuees who are staying in hotels as a result of the train derailment.
The map below shows approximate locations of the train derailment site and evacuation zones. Click the white and grey icon on the top left of the map for specifics.
Click here if you'd like to view the map, and you're using a mobile device.
Parameters of the evacuation zone:
West Hunt Road to Middlesettlements Road to north
West Lamar Alexander Parkway near Buddy's BBQ to the east
Old Glory and Big Springs roads near Rubbermaid
West Lamar Alexander Parkway at William Blount Drive to the west
In addition, the Andover and Crosswinds areas are being evacuated.
Kits that can help responders avoid exposure to the spilled liquid were being shipped up from the Chattanooga Fire Department, Chattanooga hospital and EMS departments.
The "CYANOKITS" ward off the threat of cyanide poisoning, the potential of which exists in exposure from the fire's smoke.
The Lindsay Young YMCA in downtown Knoxville is open to Blount County evacuees to use the showers.
Animals can be dropped off at the Blount County Animal Shelter at 233 Curie Avenue in Maryville. According to Don Stallions, the Director of General Services, people cannot stay at the animal shelter. The Blount County Animal Shelter will feed and take care of pets.
We are told by the Blount County Sheriff's Department that these evacuations may be in effect for 24 to 48 hours.
Mandatory evacuation is required for the following areas:
Walmart in Alcoa--UPDATE--SCHEDULED TO RE-OPEN AROUND 2 P.M.
Those along Middlesettlements Road are being evacuated to state Highway 129
Denso Manufacturing
Ashley Apartments
Stone Tree Apartments
Denso Manufacturing employees in Maryville will not report to work Thursday morning due to train derailment evacuations.