Komen Knoxville's 20th Race for the Cure is coming up Saturday--here's everything you need to know before race day.
The event has had as many as 14,824 participants in the past, and Komen Knoxville is hoping to break some records at its 2016 race to fight breast cancer.
Registration
You can register online or in person. The deadline to register a team is Oct. 20 at midnight.
Representatives will be at the West Town Mall Atrium near JC Penney for in-person registration and packet pick-up on these dates:
Wednesday, Oct. 19 - 10:00 a.m. - 8:00 p.m.
Thursday, Oct. 20 - 10:00 a.m. - 8:00 p.m.
Friday, Oct. 21 - 10:00 a.m. - 5:00 p.m.
Fees: Adult- $35, Kids for the Cure and Student- $25, In the Pink (any participants)- $60; Sleep in for the Cure $35
Race Day
You can still register on race day at World's Fair Park from 6:30 - 7:45 a.m.
The expo opens at 7 a.m., and the race starts on the Clinch Ave. Bridge at 8:30 a.m.
A full schedule of events can be found here.
Event Details
The race is a 5K, so it's about 3.1 miles, but there is also a shorter 1 mile option. Both runners and walkers can participate in either distance.
Pets are not allowed but strollers are welcome.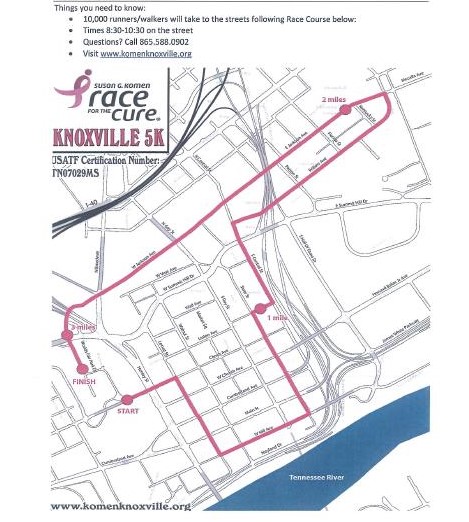 Coverage
WBIR will be covering the event live at 6 and 8 a.m. and streaming the coverage on wbir.com.