Two days after becoming the season nine winner of NBC's "The Voice," Harlan, Ky., native Jordan Smith spoke with Abby Ham on 10News Today.
Smith also appeared on NBC's "Today" on Thursday morning.
Knoxville's Emily Ann Roberts finished as the runner-up on this season of "The Voice," which broadcast its live shows in Los Angeles.
Roberts returned home to Knoxville on Wednesday night.
A parade is scheduled for Smith on Monday at 2:30 p.m. The parade begins on Central Street in Harlan, Ky.
Related: Social media reaction to Jordan Smith winning "The Voice"
Here's a transcription of the interview on 10News Today:
Abby Ham: For the last few months we've seen Jordan Smith wow the judges and the viewers alike on "The Voice." It all paid off Tuesday night, he was "Voice" champion of the world, and he has been with my co-anchor. They've become best buds. I'm so jealous about this Jordan Smith. Good morning!
Jordan Smith: Good morning. How are you?
Ham: I'm great. Thanks so much for being with us. I know that this has been such a whirlwind. You've been so busy, you've been doing interviews right, left and sideways, so we certainly appreciate it. Tell us a little bit about what it's like waking up this morning knowing that you won this whole thing?
Smith: It's just honestly so crazy to be sitting here talking to you about this. This morning I woke up in my hotel room, and I rolled over, and I thought "Oh my gosh! Is this real life?" (laughs). It's so surreal. It's so crazy to be here. You know being on the show has been a dream of mine for so long, and so to be sitting here and talking to you at the end of it as the winner is just an incredible feeling.
Ham: Well, I can tell you what, being back here holding down the fort for Russell (Biven) while he's been in LA has been quite an experience because I've gotten to see firsthand the support that you have in this region. I mean Jordan, that has to feel good.
Smith: Yeah, it does. I'm so thankful to be from this region. It means the world to me to have the backing of my people behind me. I am the person I am because of the place that I'm from, and because of the people that have poured into me my entire life. So, it's an honor to have represented them on the show, and to see that support from them it's just so special to me. It means the world.
Ham: Now, you posted on Instagram a picture of you actually looking like you were getting some sort of rest. Have you been able to just relax yet, or has that not been possible?
Smith: (Laughs) You know there's been a couple moments of rest. I got a couple chances to have a little quick power nap here and there since Tuesday night. But, mostly I've just been going. I woke up Wednesday morning, and had a series of interviews, and then came all the way to New York. Now I'm here with you. There hasn't been a lot of sleep, but it's been enough. Right now, I'm just kind of running on excitement (laughs), and adrenaline I think.
A photo posted by Jordan Smith (@jordansmithlive) on
Ham: Maybe some coffee hopefully. Jordan you're in New York now. You're going to be on the "Today Show" this morning in the 8 o'clock hour, which we're excited about...But, also you're there to start recording your album, is that right?
Smith: Actually, I'll be headed home to Kentucky. After this I'll be headed home to Kentucky in a couple of days, and I'll spend the holidays with my family and my girlfriend, and be able to be home and celebrate with them. Then, I'll head back to LA in January to get started right away.
Ham: That's great. Working with Adam Levine was probably quite an experience. What did you learn from him Jordan?
Smith: It was an experience for sure (laughs). We had so many cool moments, and so much fun together this season. Just having time to work together, and collaborate on these different performances...I've learned so much from him. He's taught me a lot, and he's told me lots of things.
But, most of the lessons that I learned weren't even things that he had to say to me. One thing that he really taught me that he never really even said out loud, was just that when you have a gut feeling about something as an artist, sometimes you just have to go for it, and see what happens. There have been times throughout the season when we weren't' sure about songs, or we thought we wanted to go with a specific choice, and then we'd get into the room to rehearse it, and it didn't feel right. And so in those moments we changed what we were doing, and we landed on these things that we just kind of had a gut feeling that they were right, you know?
So, he's told me that as an artist that's an instinct that you have that you have to listen to. You have to put your whole heart into your music so that when you have that feeling, you can fully understand what it is that you need to do, and you can make the right choices for yourself.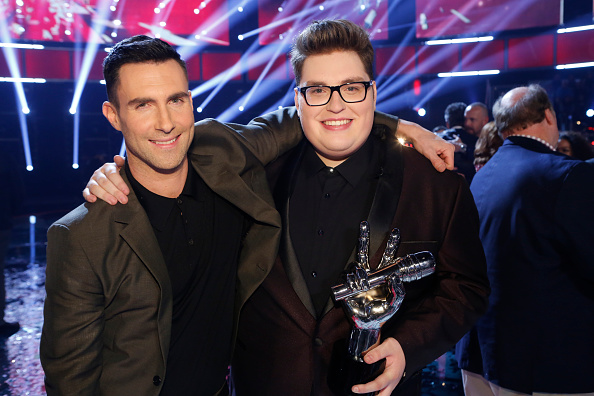 Ham: Oh, that's great. Jordan, I'm going to be gushy here, but you truly are such an inspiration for so many young people, such a good man, a good Christian, an amazing singer, and it was a pleasure to watch your journey. You represented us so well, and we're proud of that, I can tell you.
Smith: Oh, thank you so much. I so appreciate all of the support. It's been so overwhelming just how supportive how everybody has been. I had such a great time on the show, and being surrounded by the other contestants.
You know Emily Ann she's from there in Knoxville, and she was just so sweet. She was such an encouragement to me. Being around people like her, honestly, it didn't make it very difficult to just be yourself, and be that inspiring, encouraging person that people see me as. Honestly, I was just being myself, and trying to live up to their wonderfulness (laughs).
Ham: That's really sweet. Jordan, we cannot wait to welcome you home. There will be a parade in Harlan. Can't wait to see that. Thanks for being here this morning, and you get some rest my friend.
Smith: Of course. Thank you so much.