A suspended Monroe County reserve deputy accused of vote-buying in a federal investigation faces a new charge: witness tampering.
A federal grand jury in Knoxville returned the count Tuesday against Brian "Wormy" Hodge.
He's set for a court hearing July 10 in U.S. District Court in Knoxville and has an Oct. 17 trial date.
Hodge and Betty Best were indicted in February in what authorities say was a scheme designed in 2014 to help elect Randy White, a Republican candidate for Monroe County sheriff. The pair recruited potential voters, documents state.
Documents show at least seven voters got cash for their votes.
Best reached a plea agreement March 27 with the government and is to be sentenced July 19 before Senior U.S. District Judge Leon Jordan.
The new superseding indictment accuses Hodge of trying to persuade Best to lie to federal authorities in the case.
Related: 2 indicted in alleged vote-buying scheme
According to the indictment, Hodge "and others" gave voters rides to their polling place and went with them "into the voting booth."
Best and Hodge are free on bond.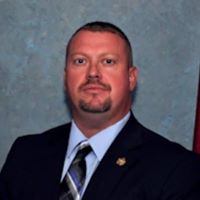 One condition of Hodge's bond is that he not possess a firearm. Hodge has previously worked as a reserve Monroe County deputy and as a paramedic with emergency services for the U.S. Department of Energy in Oak Ridge.
After indictment, Hodge lost the paramedic job and was suspended from the Sheriff's Office position, records show.
In April, attorney Michael McGovern sought to have the weapons ban lifted so Hodge could work again for the Monroe County Sheriff's Office, perhaps in the jail.
Monroe County Sheriff Tommy Jones testified on Hodge's behalf at the hearing.
Randy White ended up winning the 2014 race for sheriff but was disqualified after a judge found he lacked a state qualification. Jones then became sheriff and hired White as his chief deputy.
Jones told Magistrate Judge Clifford Shirley on the stand that he'd hire Hodge if the gun restriction was lifted. Jones testified Hodge would be assigned to the jail.
Shirley noted in a memo and order filed April 25 that Jones testified he would issue a cruiser to Hodge if he hired him back.
"He admitted he had never employed anyone who was under indictment before and had reservations about the allegations that the defendant solicited a witness to lie to the FBI," Shirley wrote.
Shirley declined to lift his ban against Hodge carrying a firearm.