UPDATE Aug. 2, 2017: Investigators are continuing to piece to together the timeline that an alleged kidnapper and murderer may have traveled.
Phillip Michael Stroupe II changed the appearance of the vehicle he reportedly stole from a man he's accused of kidnapping and murdering.
The 2007 silver Honda Ridgeline was painted with black spray paint on the bottom half of the vehicle.
Businesses and the public in Eastern Tennessee or Western North Carolina that may have seen the Ridgeline in its altered state are asked to contact the Henderson County Sheriff's Office at 828-697-4911.
ORIGINAL STORY July 31, 2017: Law enforcement officials are asking businesses in parts of Sevier County and Dandridge to review their security camera video from Wednesday, July 26 as they piece together a timeline of in the kidnapping and murder of North Carolina man Thomas Bryson.
Phillip Michael Stroupe II has been charged with first-degree murder in Bryson's death.
Officials say Stroupe carjacked Bryson, 68, on the morning of Wednesday, July 26. Investigators believe Stroupe was in the Gatlinburg and Sevierville areas sometime after 10 a.m. that day.
Stroupe was captured in McDowell County, North Carolina on Thursday after a five-day manhunt. He is in custody in Henderson County, North Carolina, and faces several charges, including first-degree murder.
Bryson's body was found in Arden, North Carolina, near Asheville, on Sunday.
The Henderson County Sheriff's Office is asking businesses in the Gatlinburg, Pigeon Forge, Sevierville and Dandridge areas that may have camera footage of roads or parking areas between Gatlinburg and Dandridge to check their security cameras for sightings of a 2007 silver Honda Ridgeline on July 26.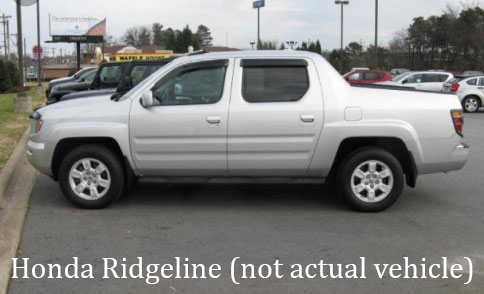 The vehicle has a North Carolina tag number AAR-7345 with a West Henderson Falcons tag on the front and a West Henderson magnet on the back. The vehicle has been found, but officials want to know if it was spotted on any surveillance video in the Sevier County area.
Stroupe is a 38-year-old white man, approximately 5-foot, 8-inches tall with a small build. He has a shaved head and a large, distinctive tattoo on his neck under his chin, as well as other tattoos on his arms and chest.
Businesses are asked to contact the Henderson County Sheriff's office at 828-697-4911 or local law enforcement with any sightings.