UPDATE 2:30 FRIDAY: Two men involved Thursday in a chase and collision with a Knox County Sheriff's Office K-9 officer face numerous charges.
Danny Chavis, 51, of Lenoir City is charged with reckless endangerment, aggravated assault, possession of methamphetamine, among other things, according to the Knox County Sheriff's Office. He drove a Nissan Versa that tried to elude the deputy and ended up running into him, according to authorities.
Passenger Christopher Bertram, 29, of Kingston is charged with resisting arrest and possession of drug paraphernalia.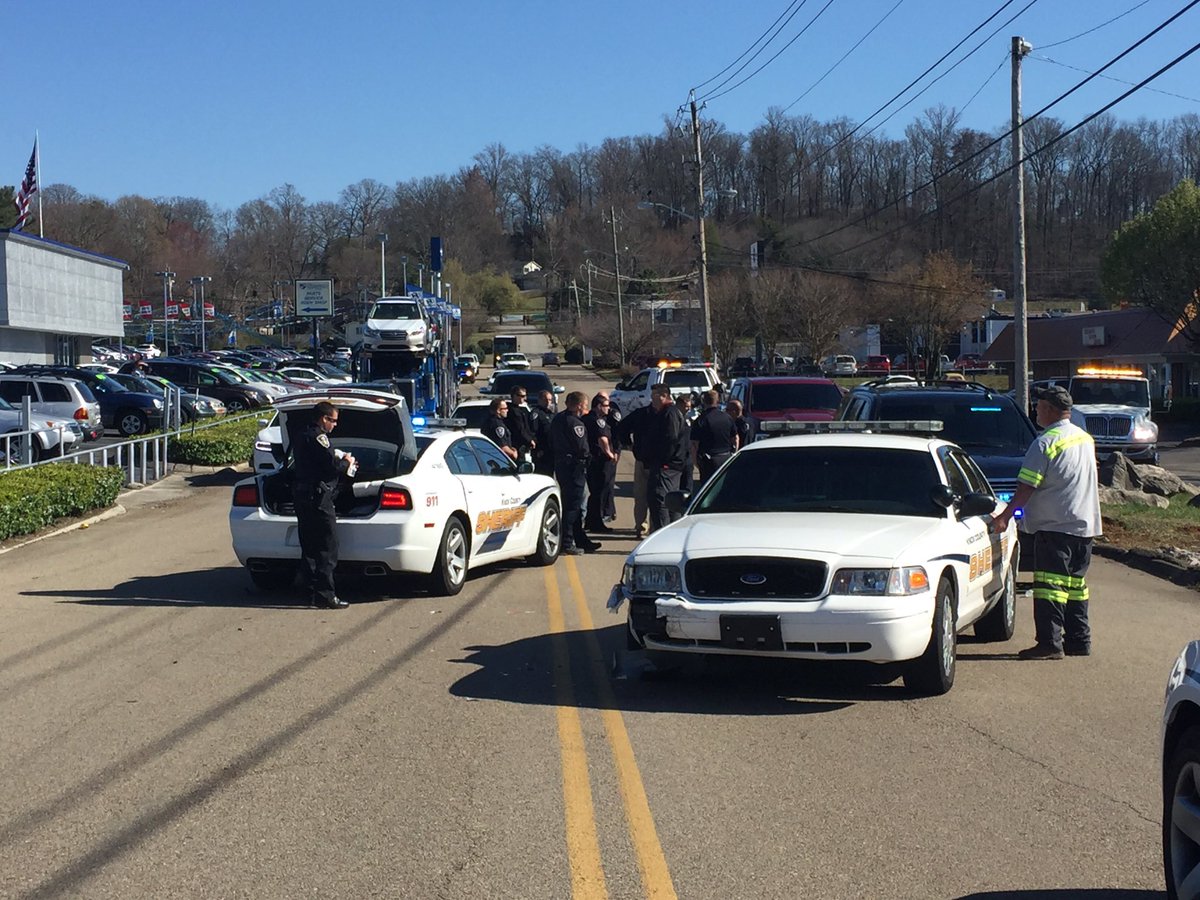 According to the Sheriff's Office, Deputy Chad Gore tried to stop Chavis after he ran a stop sign on Harry Lane Boulevard. Chavis was speeding and driving on the wrong side of the road.
He ended up on West Kings Way and collided with Gore's cruiser while trying to make a u-turn.
Chavis and Bertram got out of the car but wouldn't cooperate, according to the Sheriff's Office. Gore had the K-9 help him. The dog bit Chavis in the left calf, and Chavis kicked the dog in the head, according to authorities.
KCSO Officer Michael Adkins "subdued" Bertram after Bertram resisted and failed to follow commands.
UPDATE: One man in a fleeing car was transported to an area hospital with a dog bite and another was taken into custody Thursday afternoon following a chase in Bearden in which the the men collided head-on with a Knox County K-9 officer.
The deputy, identified as Chad Gore, was not injured, according to the Sheriff's Office.
Names of those involved have not been released yet.
The officer's cruiser appeared to suffer minor damage to the right front. The vehicle he had been chasing also suffered damage.
The collision occurred about 3:30 p.m. on West Kings Way.
According to the Sheriff's Office, Gore tried to stop a 2016 Nissan Versa in West Knoxville.
"The suspects drove off with the officer in a pursuit that went to Kingston Pike and then to a dead-end on Kings Way," a news release states. "The suspect turned his vehicle around and hit the patrol car head-on."
The men fled in a parking lot. Gore and another officer caught the men.
The driver suffered a K-9 bite in the arrest. He was taken to an area hospital for treatment.
Drugs and drug paraphernalia were found in the car, according to the Sheriff's Office, and charges are pending.
PREVIOUS STORY: Authorities responded Thursday afternoon to a crash involving a Knox County Sheriff's deputy in West Knox County.
The wreck happened on West Kings Way.
Officials on scene said the deputy was pursuing another vehicle when it turned around and hit the deputy's cruiser head-on.
Officials arrested at least one person following the crash. It was not immediately clear if anyone was injured.
From KCSO on scene this was a short pursuit that's ended when the fleeing vehicle hit the cruiser head on. @wbir pic.twitter.com/YzH0jeVtx7

— Aaron Wright (@AaronWBIR) March 16, 2017
This story will be updated when more information is available.