Tennessee authorities have determined that photos shared by a Nebraska police agency are not Elizabeth Thomas or Tad Cummins.
The Kearney Police Department posted several photos early Monday morning of what they said had been a "possible" sighting tied to the ongoing AMBER Alert from Tennessee.
About 11 hours later, the Tennessee Bureau of Investigation announced that they determined the man and girl seen in the Nebraska surveillance photos were not Thomas or Cummins.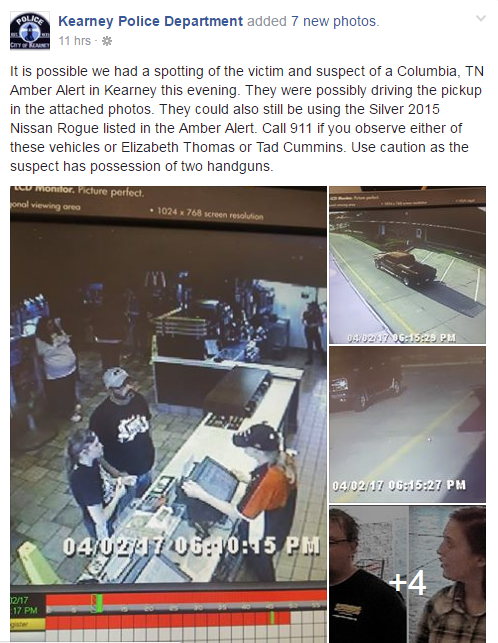 Monday marks three weeks since 15-year-old Elizabeth Thomas disappeared from Middle Tennessee with her former teacher, 50-year-old Tad Cummins.
Late last week, TBI confirmed they were spotted at an Oklahoma City Walmart on March 15. That surveillance footage was the first images of Cummins and Thomas that investigators have obtained since the alleged kidnapping on March 13.
PREVIOUS: TBI confirms AMBER Alert sighting in Oklahoma
It appears Cummins has darkened his hair and Thomas may currently have red hair.
Investigators are working to determine what vehicle they were using at the time.
Cummins is wanted for Aggravated Kidnapping and Sexual Contact with a Minor. TBI also added him to its 'Top 10 Most Wanted' list.