One thing could obstruct the viewing experience for millions of people planning to watch the solar eclipse in August.
Clouds.
A *recent report by the National Oceanic and Atmospheric Administration looked at the historical trend of cloud conditions on Aug. 21 in the path of the eclipse. The study found the west and east coasts both carry the highest probability of heavy cloud conditions. In addition, many areas east of the Mississippi River may experience cloud cover as the eclipse passes.
For Tennessee cities, the historical cloudiness data shows it could be a toss-up for visibility on the day of the eclipse. Nashville has a "viewable" rate of 44 percent, meaning there is a 44 percent chance viewers in Nashville will have clear skies during the eclipse.
As the eclipse moves farther east, the likelihood of clear skies rises to 65.5 percent in Crossville and 72.5 percent in Oak Ridge. Knoxville and Chattanooga each have a 59 percent chance of skies being clear enough for the eclipse to be visible.
MAP: Average historical cloudiness for August 21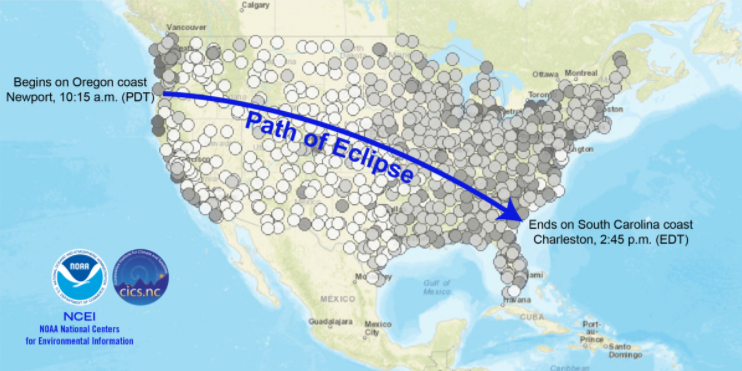 The Intermountain West has the best chance of having clear skies on Aug. 21. Cities in the path of the eclipse in Wyoming, Nebraska and southern Illinois have historically clear conditions, according to the study.
The following is an incomplete list of cities and towns on the path of totality from west the east. The list includes local times for viewing of the eclipse, followed by the average cloudiness percentage. A higher percentage means a lower chance of cloud cover. So for example, a 67 percent viewability percentage means a 33 percent chance of clouds.
CHART: Eclipse viewability percentage
The historical data comes from 10-year hourly climate averages from 2001-2010. The information was measured at weather stations across the country each August 21 as near the hour of the eclipse as possible.
Keep in mind though, these calculations are historical, which provide a basis for comparison but no guarantee of what conditions will be like this Aug. 21.
MAP: State capitols in path of totality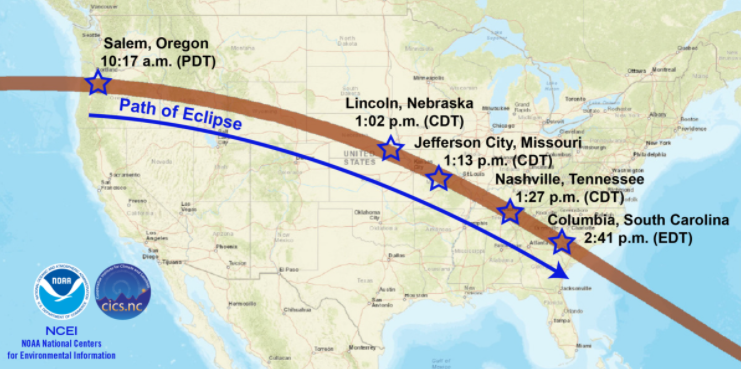 This year's eclipse is expected to last about 90 minutes, making its first appearance over the Pacific Northwest in midmorning and ending on the South Carolina coast. The last time a total eclipse crossed the United States was in 1979. The last time an eclipse traveled coast to coast was 1918.
* The report was published June 6 by the National Oceanic and Atmospheric Administration's National Centers for Environmental Information and the Cooperative Institutes for Climate and Satellites-North Carolina.