Hopeful, disbelief, curious, dumbfounded.
Those were just some of the reactions when we asked Knoxvillians on Wednesday to take a seat in our "10Listens Chair" and share their thoughts about Tuesday's presidential election.
It was a surprise for just about everyone when Republican Donald Trump beat Democrat Hillary Clinton. Numerous polls indicated Clinton would beat Trump, and experts said Trump had a much tougher road to win the White House than she did.
Turns out the experts were very, very wrong. It was Trump who pretty much sailed to victory and Clinton who spent the early hours of Wednesday sweating what turned out to be defeat.
Many people took a seat Wednesday in our chair on Market Square. We asked them to give us one word that captured their state of mind.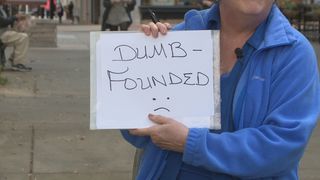 One man, wearing a "Clinton for Prison" T-shirt, said he was hopeful to see what happened when Trump takes over from President Barack Obama in January.
Another man said he was "horrified that someone so racist and sexist could be the head of our country."
One young woman told us, "I am very satisfied with the outcome of the campaign."
Another said: "It's time for a peaceful revolution, because I'm tired of the way it's going."
And there was this heartfelt response from a woman who told us that Tuesday left her "dumbfounded." She had a message for President-elect Trump.
"The country needs better than what we've got.," she said. "The country has so much to offer. I just hope and pray you will do your best – because we truly need it."