The U.S. Forest Service says a wildfire on Neddy Mountain in Cocke County has now burned at least 324 acres and threatened homes.
Neddy Mountain Fire Information Officer Robert Rhinehart says the fire remained active overnight, but established containment lines held.
Rhinehart says fire activity was high on Sunday morning because of low humidity, and it's only 30 percent contained.
There are 65 fire personnel, four bulldozers, two helicopters and one air tanker assigned to fight the fire.
Fire officials have asked residents in two homes to evacuate, but one man chose to stay in his home.
"They gave us 45 minutes to get out," said James Lopez, who moved into his home on Neddy Mountain earlier this year.
Lopez said his wife evacuated and lodged with a friend at the bottom of the mountain. But instead of leaving, Lopez decided to do what he could to aid firefighters as they protected his home.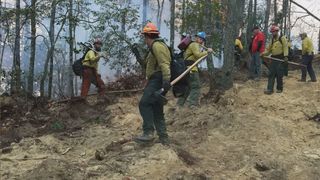 On Saturday afternoon, Lopez, another neighbor who was warned to evacuate, and a third man who had planned on building a house in the area all banded together in Lopez's home.
As fire crews backburned to keep the wildfire from approaching the home, the men sprayed their property with water and pumped 5,000 gallons of water into a storage tank for firefighters to use as needed.
"These are our homes – this is where we live," Lopez said. "We're going to do whatever we can to make sure our homes are still here tomorrow morning."
He calls his home a "dream house" where he planned to spend the rest of his life. "And when it might be going up in flames, you're concerned," he said.
Lopez also offered up bedding, meals and restrooms for firefighters, but says crews mostly had those under control.
Lopez said he is grateful for fire crews risking their lives to protect them.
"They can tell us we need to go. We're out of here, but until then... we're going to stay here and help in any way we can."
U.S. Forest Service officials want to remind people to heed evacuation notices. They say not doing so could add additional safety concerns for both residents and fire crews.