As 2016 comes to a close, we take a look back at this year in review.
We remember the ups and the downs, the good and the bad, and remind ourselves of the best, and the toughest times. For many of those times, there was music.
It was there while we cried, laughed, mourned and celebrated. So now we take a look back at 2016: A year in music.
In January, the sixth year of Waynestock brought folks together to celebrate the life of Andrew Bledsoe.
Bledsoe died suddenly in 2010, so his family wanted to celebrate his life with the thing he loved most. Music.
Those there fore that first festival say, in the last six years, the festival has grown into something they next expected.
"At the time, both me and my family were in such shock that we really didn't know what to think about it," said Bledsoe. "We were very touched, and I'm still very touched. I can't even talk about the beginning of it without getting emotional."
Waynestock honors a new charity each year. This year's festival benefited the Knoxville Girls Rock Club.
In March, East Tennesseeans welcomed the opening of Mill and Mine. The new concert and event venue was created out of old warehouses near the Southern Railway station.
Historical developer David Dewhirst says the 20,000-square-foot building mixes old architecture with new technology, bringing a new style to East Tennessee music lovers.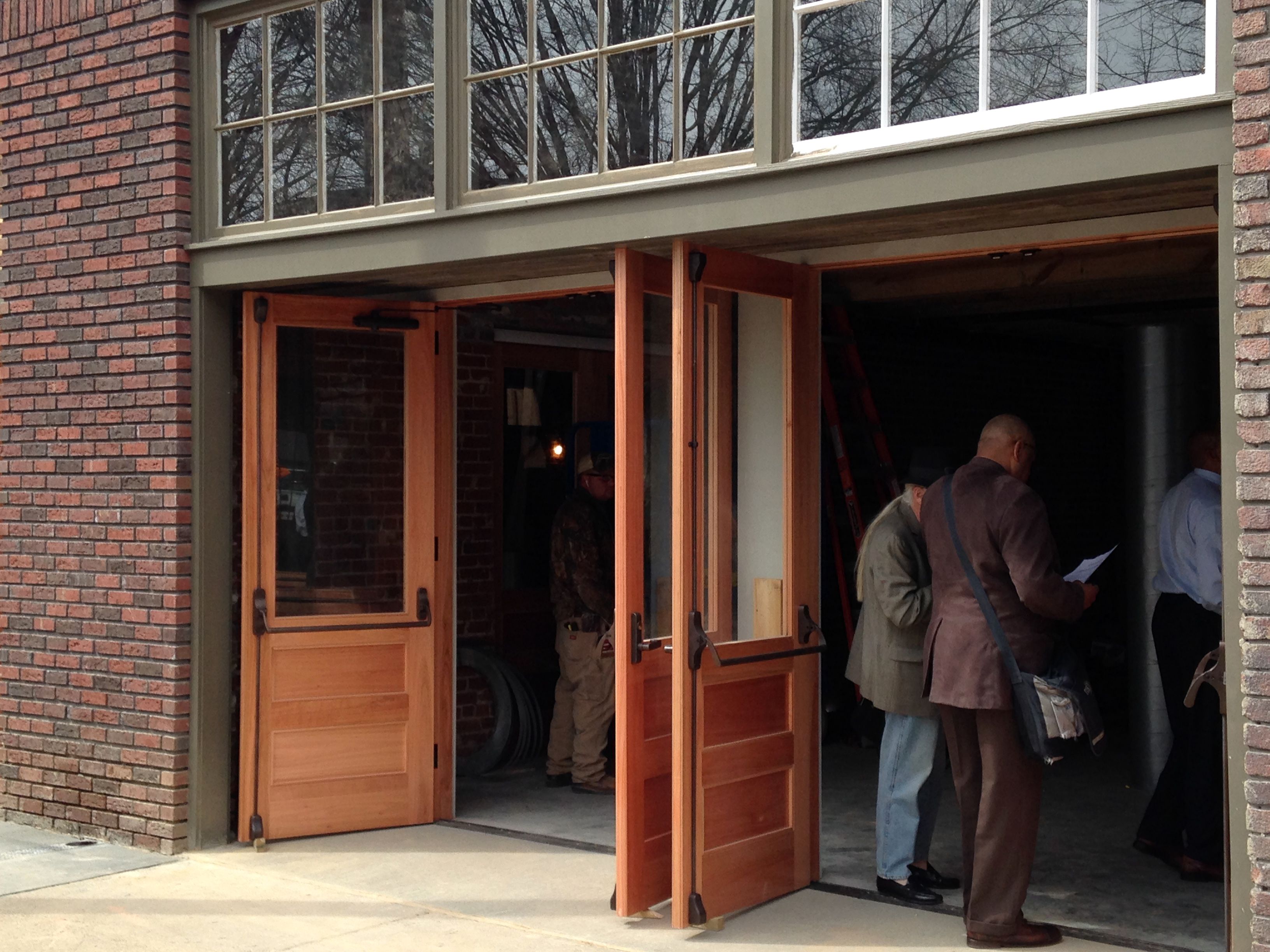 From Knoxville to "The Voice "stage in Los Angeles, Emily Ann Roberts had a wild ride this last year.
Roberts made it all the way to the season nine finale of "The Voice", where she gave three heart-stopping performances. She wrapped up the show with a solo performance of "Burning House" by Cam. It led to a standing ovation from all four judges and had them predicting a potential upset.
While she didn't come away as "The Voice" champion, Roberts she said the journey was still life changing and forced her to make some quick decisions.
"I remember sitting down with my principal and she said 'You're going to want to graduate a year early' and I said 'No, I want my senior year, I want to go to prom, want to go to football games,'" Roberts said.
She said her success on "The Voice" changed those priorities, and made her realize music was what she wanted to pursue going forward.
In the last year, Roberts performed at the Tennessee Valley Fair and at the University of Tennessee football game against Ohio.
While she enjoys being home, Roberts confesses she misses her "Voice" family. However, thanks to technology, they've managed to keep in touch.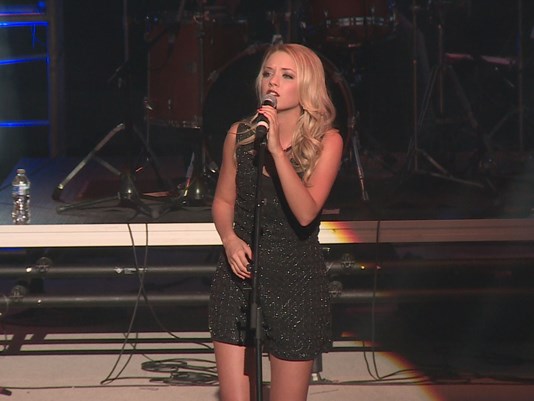 Jordan SmithJordan Smith, from Harlan, Ky., also became an overnight sensation on "The Voice."Smith also made it to the season nine finale of the show with Roberts. He took the win after numerous unforgettable performances, and recently released his first album.On top of his already busy year, he hit the road for his first headline tour. Smith began the tour in May in San Francisco, before wrapping it up at Knoxville's Bijou Theatre in June. "I'm one of those insane crazy blessed people who get to do what they love and I never imagined I would be one of those people so thank you for that," Smith said.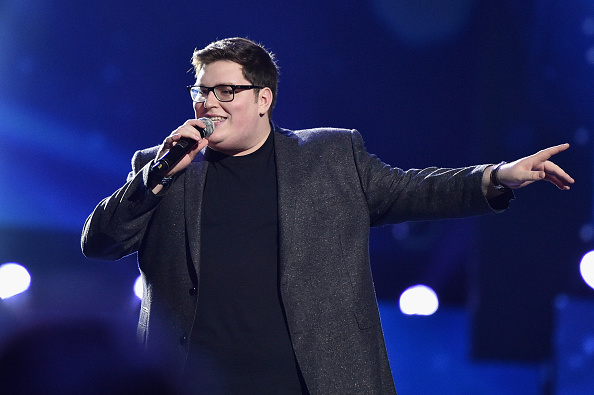 Knoxville Symphony Orchestra Honors Pat SummittOver the summer, University of Tennessee legendary coach Pat Summitt passed away at age 64.Tributes erupted across the country at the news, including by the Knoxville Symphony Orchestra. The Orchestra played a tribute to the Lady Vols coaching legend during it's performance with "Sophisticated Lady" by Duke Ellington, followed by a moment of silence.They also performed "Rocky Top" while images of Summitt's career were displayed on a big screen.Knoxville Special Events Director Judith Foltz said KSO Maestro Aram Demirjian first came up with the tribute."It was something very heartfelt that everybody wanted to do something to pay tribute to Pat Summitt during this time," Foltz said.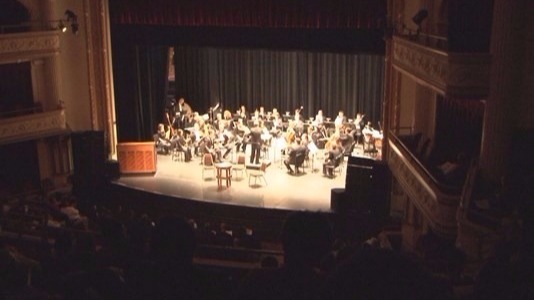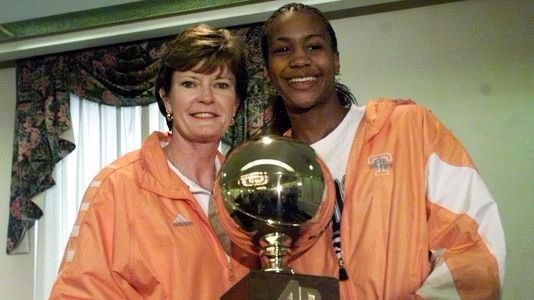 Battle at BristolIn September, Vol fans from across the state came out in their orange and white for the Battle at Bristol. There, Johnson City native Kenny Chesney showed his Tennessee spirit with a pre-game performance. Chesney's return to East Tennessee was already much anticipated, but once on stage, he took it up another notch by inviting another Tennessee legend on stage.While closing the show, Chesney invited former Vol Peyton Manning up on stage. It doesn't get much better in East Tennessee the night before a Tennessee game, or anytime really.The concert, on the eve of the "Battle at Bristol" between Tennessee and Virginia Tech, featured country acts Old Dominion and The Band Perry. By the time Chesney took the stage, the grandstand along the racetrack's backstretch was virtually filled. Many fans wore either Tennessee orange or Virginia Tech maroon.Chesney, a lifelong Vols fan, stopped at one point during the high-energy show to tell the crowd about his days attending East Tennessee State University in nearby Johnson City, playing the bars in the area and working for a year at El Chico restaurant to raise enough money to cut an album in Bristol, Va., just across the state line. As the final bars played from his No. 1 hit "The Boys of Fall," an ode to football, Chesney motioned Manning from the wings, where he'd been sitting and watching the show.Manning, who retired from the NFL after winning the Super Bowl last winter, participated in the coin toss before the game (Bruce Smith represented Virginia Tech).As the former Tennessee and NFL great appeared onstage, Chesney grabbed an acoustic guitar. He and Manning signed it. Then they walked together to the front of the stage.As the crowd roared, Manning picked out a young fan wearing an orange Tennessee football jersey (No. 98, for 1998, when the Vols won the national championship). They pulled the boy onstage and presented him the guitar.The crowd went bonkers."We are here this weekend to celebrate music," Chesney said earlier in the show. "And we are here to celebrate football."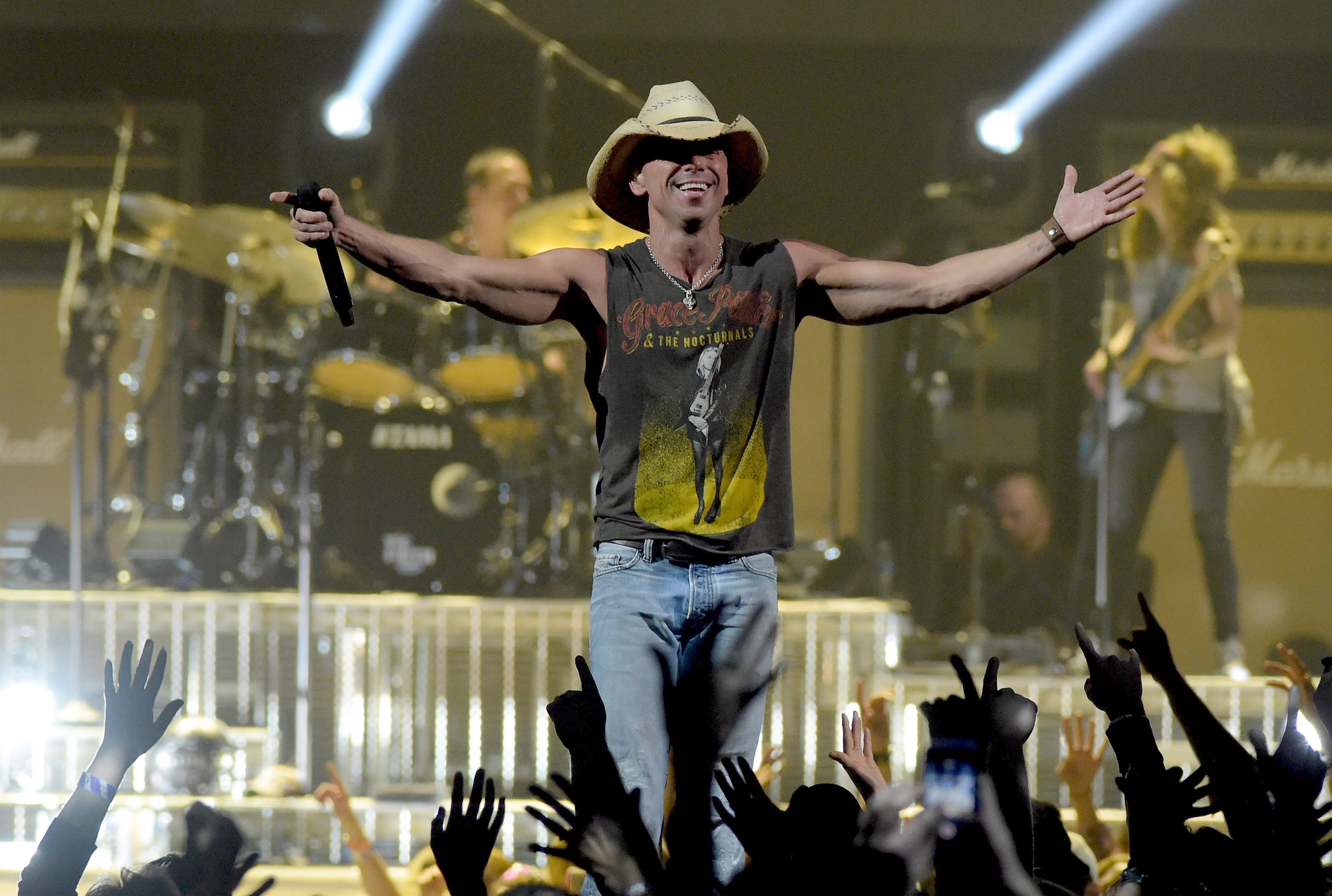 Officer Kenny Moats Benefit ConcertTragedy also struck in September after the death of Maryville police officer Kenny Moats.Moats was killed after he was shot while responding to a domestic dispute. In response to the news of his death, the community jumped to back the blue. Efforts to support the Moats family drew attention from across the country, including from some of country music's biggest stars.The family of Officer Moats was honored at a benefit concern where the venue, Back Porch on the Creek, and country music star Trace Adkins presented the family with a $10,000 check.The goal of the concert was also a way to pay appreciation to law enforcement as a whole. Officers who showed their badge at the gate received free admission.Concert organizers also donated $1 from each ticket sold to the Fraternal Order of Police."It really touches home, Maryville is just down the street from us, a lot of our guys know a lot of their guys," said officer Mike Taylor. "It's hard sometimes to focus and remind yourself that most people support you and that's the truth."Other donations for the family were collected throughout the night as well.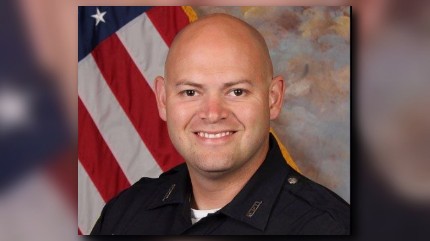 Museum of Appalachia Fall HomecomingIn the fall, the Museum of Appalachia put on its annual fall homecoming. This year the homecoming was about much more than just the music.Redd Stewart, who wrote the "Tennessee Waltz" passed away in 2003. The very last time he sang the song was on the main stage at the museum."Anytime he'd write a new song, he would have me come and listen. 'Come here sis' - he always called me sis," said Lydia Marrow, Stewart's daughter. "And of course I'd always tell him they were wonderful even thought I was at the age I was into rock 'n roll full time."The Stewart family has musical ties with Tennessee dating back to 1946."Tennessee Waltz" became the Tennessee state song in 1965. Redd and his family live on through at exhibit in the museum. After all the years of playing at the Fall Homecoming, Redd's nephew Mark Stewart said he and the rest of the family feel the museum is as much a part of them as they are of it. "I got a feeling they'll just mount us and put us in there somewhere," he said.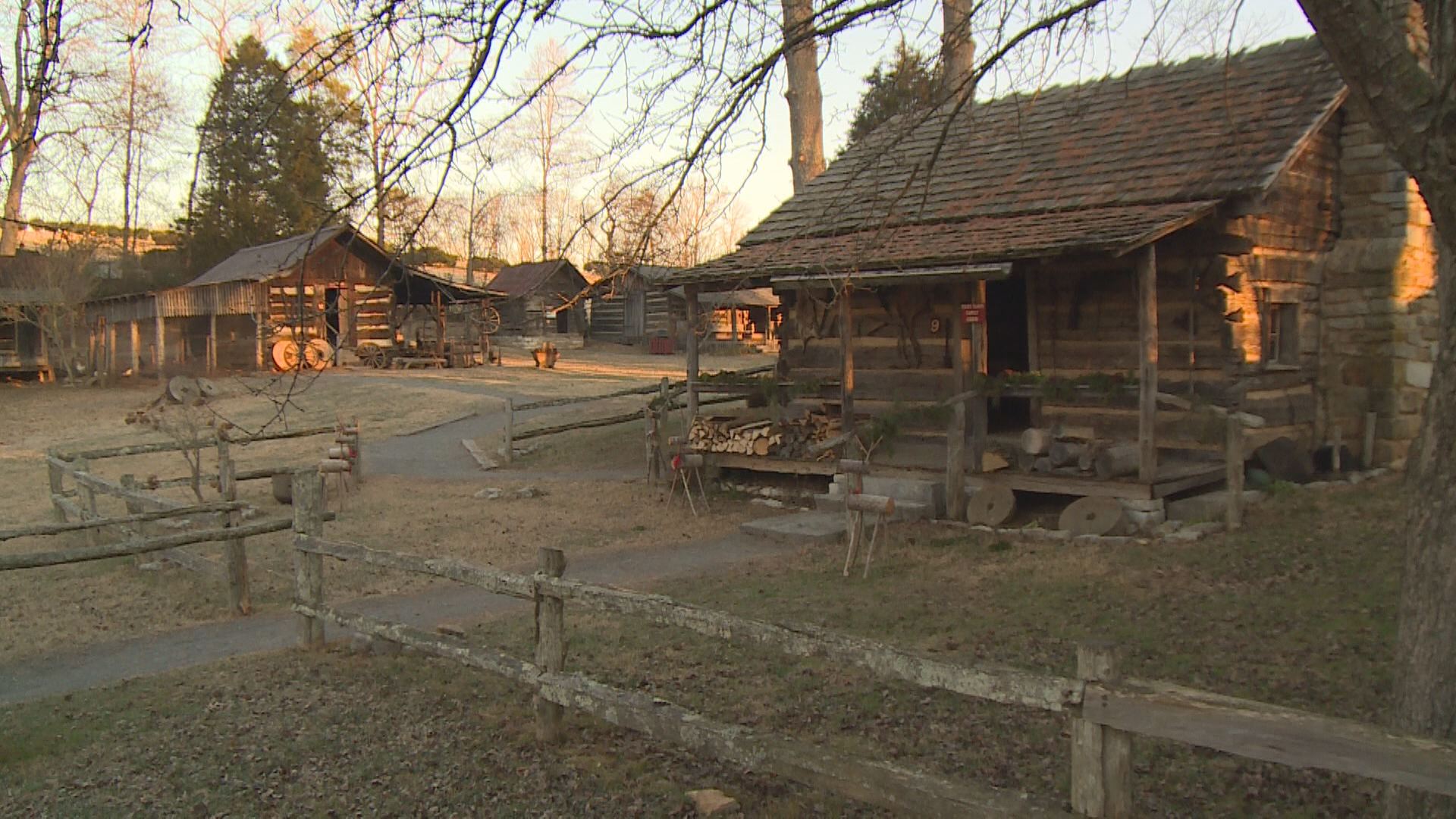 Mountain Tough Benefit ConcertAs fall went on, tragedy struck in East Tennessee. The deadly Gatlinburg wildfires burned thousands of acres, left dozens without homes, and killed 14 people.A community was left figuring out what to do next, and how to recovery from a devastating natural disaster. As people searched for answers, music helped bring thousands together to help those in need.In December, hundreds gathered in downtown Gatlinburg to see the Zac Brown Band headline the "Mountain Tough" Festival.The all-day concert helped raise money and support fire recovery efforts.Ole Smoky Moonshine, Yee Haw Brewing Company, Music City Roots, and the Gatlinburg Convention and Visitors Bureau partnered together to plan the all-day outdoor show at 705 Parkway in Gatlinburg.Artists that performed included the Zac Brown Band, Jim Lauderdale, Sam Bush, Derek St. Holmes, Jason D. Williams, Rob Ickes and Trey Hensley, Randy Kohrs, Sarah Potenza, Moe Pitney and Chelle Rose.Kirk Fleta, a local Gatlinburg musician, got to share the stage with Sam Bush. Fleka lost everything in the wildfires with the exception of his harmonica, guitar and will to perform.Zac Brown Band guitarist, Coy Bowles, told 10News his band immediately said yes to performing in the "Mountain Tough" concert."I know we're in the right place doing the right thing," Bowles said. "This affected so many people."Bowles married an East Tennessee native in 2013, and the man who married them has a home in Gatlinburg."They have a house and have lived in Gatlinburg for a really long time, so this hit close to home for us," Bowles said.Bowles knows the damage is overwhelming, but he hoped his band's performance can give people a positive distraction for at least a few minutes."I know it doesn't bring anything back, but maybe a couple of good tunes or something will get a smile on their face," Bowles said.
"My People Fund" TelethonAn East Tennessee legend also showed her support for her hometown by raising millions of dollars for wildfire victims.Dolly Parton hosted the "Smoky Mountains Rise" telethon and raised more than $9 million to help wildfire victims who lost everything get back on their feet.The telethon, part of the Dollywood Foundation's "My People Fund", featured a star-studded lineup of celebrities and music starts. The telethon garnered such a huge response that the phone lines became overwhelmed, forcing organizers to add another two lines for people to call in on.
In one of the most devastating times the East Tennessee area has seen in decades, the Volunteer spirit shone through. When times became hard, tragedy struck, or losses left behind despair, there has always been music to pick us back up again. It's there to remind us that, no matter what, we are the Volunteer state. We come together through music for those who have lost, those who need love and to celebrate. And to remind us who we are... here on Rocky Top.