Editor's Note: Kenny Warfield filed a police report alleging theft against step daughter Deborah Hall on Oct. 19, after attending the University of Tennessee-Alabama game.
Despite Tennessee's loss to Alabama, one longtime Vols fan battling lung cancer will forever remember the game fondly.
On Saturday, thanks to ticket donations from fans across the Southeastern Conference, Kenny Warfield, 62, finally lived out his dream of attending a Vols game at Neyland Stadium.
"It's just awesome. It's unbelievable the way things are going," he said, moments before walking into the stadium.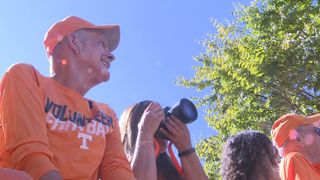 Warfield's fight with cancer took off on social media this week after his step daughter won a Facebook contest for him to attend his first Vols game ever -- but then never received the tickets.
The family's disappointment inspired a host of fans across the Southeastern Conference to pour in, mailing their own tickets to games against Alabama, Kentucky and Tennessee Tech.
ORIGINAL STORY: Fans across SEC make cancer patient's dreams come true
Since WBIR 10News' story aired, Kenny said the Volunteer community has overwhelmed him even more.
"(People) say they're praying for me, and they'll say 'God bless you' and 'We're rooting for you.' And it really feels good that there's that many people that really care, you know," he said.
Before kickoff, Warfield, 62, stood with hundreds to watch the Vol Walk, in which fans line a path as players, coaches and staff enter the stadium.
"I got to shake Butch Jones' hand. He looked straight at me!" Warfield said.
Two other surprise meetings made his day one to remember: one with quarterback Joshua Dobbs, and another with Dobbs' mother.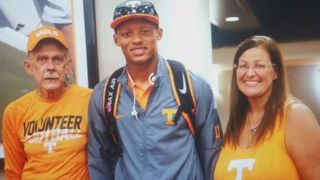 "She started talking to me and telling me she was praying for me, and that she had been ever since she'd seen (the story). She hoped I enjoyed the rest of the games I was going to go to," he said.
After fighting through six rounds of chemotherapy, the cancer has spread to Warfield's bones. But he is a fighter. Despite the toll it took on his body, Saturday was a lifetime opportunity he says he'll never forget.
"This day ain't over with. I'm already getting tired, but I don't care how tired I get - I'm going to struggle through it!" he said.