Colonial Pipeline's main line is back in service after nearly a week-long shutdown that threatened to impact the price and supply of gas in Tennessee.
The line reopened early Sunday morning, six days after an explosion killed one worker and injured five others who were working on repairs related to a gas spill back in September.
PREVIOUS: Colonial: Main gas pipeline to be closed for rest of the week
Many East Tennessee drivers still recall the last time the Colonial pipeline ruptured. The September leak caused officials to close parts of the pipeline for more than a week and left some local gas stations low on fuel.
It was terrible timing for Jeremy Fitzpatrick, who had to drive up to Knoxville for his new job that weekend.
"I actually had to go to four different stations in Atlanta just to get up to Knoxville, so I didn't know if I was going to be able to start my new job on the following Monday or what," he said.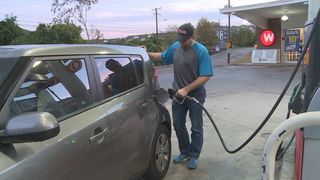 Last Monday, when an explosion caused the same pipeline to rupture again, he feared a similar outcome.
"Especially coming so close to the last one, I was afraid we would have a similar issue," he said.
However, the disruption only caused minor increases at the pump for Tennessee markets. Drivers in Knoxville and Nashville saw a four cent increase over the last week, from an average of $2.04 to $2.08.
That's compared to a near 15 cent increase at the pump in Knoxville about a week after September's leak.
The difference is partially due to a shorter disruption time. The Tennessee Emergency Management Agency also said the state's fuel supply is now in far better shape than it was before the pipeline last ruptured in September.
In September, stations were transitioning from a summer blend to a winter blend, leaving them at 45 percent their usual inventory before the pipeline ruptured. As of November, stations were back at 100 percent.
"Not having to worry about whether we're going to have enough gas to get around is a big deal," said Fitzpatrick.
The Colonial Pipeline stretches from Texas to New Jersey and carries nearly 25 million gallons of fuel per day. Both of its lines deliver gasoline to the Nashville, Knoxville and Chattanooga areas.
The company said although the pipeline restarted Sunday, it takes time for its distribution of fuel to return to normal. According to the pipeline's supply distribution map, its gas should arrive to Tennessee in less than a day, while it may take two to three days to arrive to more northern states.