A Virginia Energy Company has said it will not move forward with a wind farm planned for Cumberland County.
The wind project was planned for Crab Orchard and construction was expected to begin soon.
Apex issued a statement Tuesday on the halt:
"Apex Clean Energy has decided to suspect development of the Crab Orchard Wind project. The development of a wind energy project is a long, iterative process. Throughout the development process, Apex continues to evaluate and reevaluate the viability of a prospective project, and over that period, there are several important inflection points at which we determine whether the fundamental attributes of the project support a continuing investing in that project. We have come to such an inflection point on the Crab Orchard Wind project; we must determine whether the project fundamentals support the large investment necessary to remain in the TVA queue. Based on current market conditions and the project's fundamental qualities, we have decided not to make this significant investment at this time. Our work on the Crab Orchard Wind project will be therefore suspended until market conditions change to make the project more competitive."
Approximately 20 wind turbines at that project would have created enough electricity to power 20,000 homes in the area.
A study run by UT's Baker Center projected the wind farm would have brought the county more than $350,000 per year in tax dollars.
However, the wind turbines caused some controversy with some Cumberland County residents. Concerns were raised about the 680-foot turbines impacting their views and quality of life.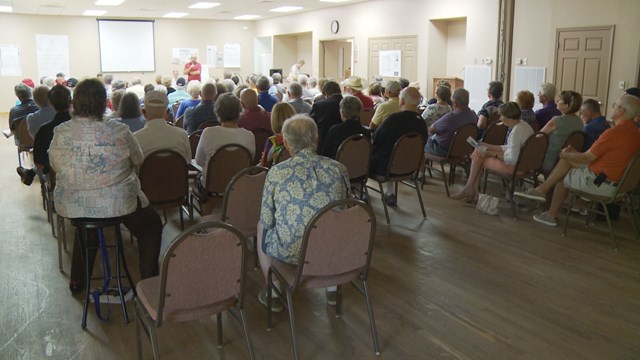 State Senator Lamar Alexander and U.S. Representative Diane Black also opposed the plan.
RELATED: Sen. Alexander opposed to Cumberland Co. wind farm project
There is still a chance it could return but Apex said it all depends on "market conditions."