On Friday, current Cuban president Raul Castro announced his brother, former Cuban dictator Fidel Castro, died at 90.
Bad health lead the former political leader to hand over power to his brother eight years ago. Castro rose to power after leading a revolt against the former Cuban regime in 1959.
Some East Tennesseans who have ties to Cuba are cautiously hopeful for a fresh start.
"Who knows what's going to happen tomorrow," said Michael Householder, who serves as director of Global Church Growth Descipling Ministries.
Householder has led 10 missionary trips to Cuba since 2011.
"I've seen the evolution of Cuba within the last five years," he said. "There's lot more freedom now than there was. Every time I go back, there seems to be more freedom that Raul gives."
He pointed to building renovations and new laws allowing citizens to buy and sell property as examples of that increasing freedom.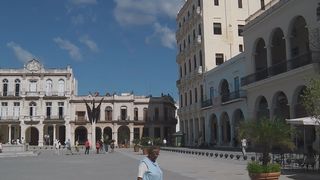 But as the latest news of Fidel Castro's death spreads, so does an air of uncertainty.
During his campaign, President-Elect Donald Trump vowed to reverse President Obama's attempts to restore diplomatic ties between the two countries.
Then in a statement on Saturday, Trump said his administration would work to ensure a journey toward "prosperity and liberty" for the Cuban people.
Across the globe, reactions to former dictator's death have ranged from remorse to celebration.
Householder says his Cuban network has mixed reviews of the late dictator.
"The people that I've talked to in Cuba... There's some that will be on Castro's side, and some that won't. There was a lot of respect for him down there, and so it depends on who you ask," he said.
Eric Sanchez owns Cubish, a food stand he launched in March by fusing dishes from his two cultures: Irish and Cuban.
"Cubans are ready for positive change, and I think it's been long enough," Sanchez said.
His grandfather emigrated from Cuba to Florida, but he himself has never been.
"If they release the embargo completely and we're allowed to travel freely and it's affordable, I'd love to go there," he said.
He hopes Castro's death means one step closer to the regime change he's been waiting for, but he is still skeptical.
"It sounds good on paper that the tyrannical leader is gone and everyone's going to be living happier, but there could be someone that comes up that could be just as bad or worse as him," he said.