The Tennessee Department of Environment and Conservation issued the first air quality alert of the spring for most of East Tennessee.
According to the department, East Tennessee was under an Code Orange Air Quality Alert for Tuesday, which means air quality was acceptable but could cause problems for people that are sensitive to air pollution.
The Orange alert has been extended to Wednesday as well.
"When we have long periods of warm weather, it climbs up into the 80s and 90s. the ozone levels climb as well," said Lynne Liddington, director of Knox County air quality management.
Liddington said this is typically the time of year East Tennessee starts to see Code Orange alerts. She said July and August are the main months this area may start seeing Code Red alerts.
Dr. Martha Buchanan, director of the Knox County Health Department, said people with sensitive respiratory issues should limit time outside during the Code Orange days if they start feeling poorly.
"Folks who have heart disease, or any kind of lung disease, asthma, or emphysema, COPD, chronic bronchitis, folks who generally maybe take medicine for breathing, need to be especially careful," said Dr. Martha Buchanan, director of the Knox County Health Department.
Related: Check air quality on the EPA's AirNow map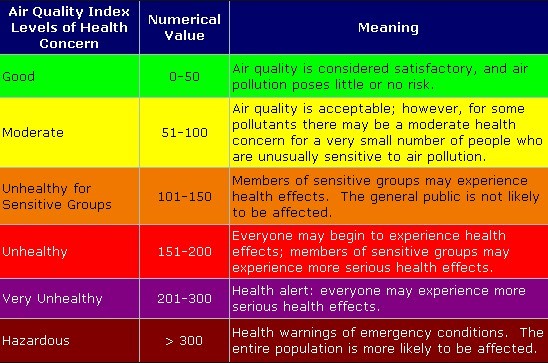 The EPA says the general public is not likely to be affected by the poor air quality.