UPDATE: Fodder, the 11-year-old Thomson gazelle who escaped from his enclosure overnight is standing and more alert on Tuesday, though his recovery is still being monitored closely.
Zoo spokesperson Tina Rolen said the zoo's only gazelle still hasn't attempted to eat, but that was not unexpected.
The gazelle suffered a broken jaw while he was running loose, and veterinarians had to place a wire in his jaw to repair the break. He will be able to eat when he feels like it.
"It is still a day to day situation," said Rolen. "We appreciate all the good wishes for his recovery."
Zoo staff are not sure how Fodder escaped because a check of the enclosure found no holes or signs of him forcing his way out. They believe he may have become spooked by something and jumped over the fence.
PREVIOUS STORY: Fodder's great adventure ended Monday morning at Zoo Knoxville.
The 11-year-old Thomson's gazelle escaped from the Grasslands Africa enclosure around 10:30 p.m. on Sunday, according to zoo officials.
Staff searched for a few hours, then decided to wait until morning to continue looking.
"We organized as a large group and sent out search parties and we scanned the zoo from east to west," said Lisa New, CEO of Zoo Knoxville.
After several sightings of the errant gazelle, Fodder was finally spotted and tranquilized around 8:30 a.m.
"The vets were able to approach him calmly, dart him with a dart gun and once he was safely anesthetized, we took him to our animal hospital to be looked over and x-rayed," she said.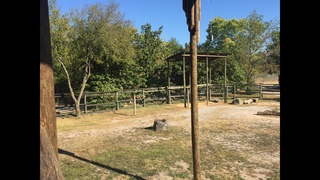 Fodder had a broken jaw which required surgery at the zoo's medical center. Dr. Andrew Cushing said Fodder made it through the surgery and is now in recovery.
"The risks are that he further traumatizes it or that he gets an infection in there but we try to guard against that by keeping him nice and quiet and giving him antibiotics," he said.
Since surgery, Fodder has not stood up in the recovery barn. In terms of survival, curators say they are keeping a close eye on him and taking the situation hour-by-hour.
Zoo officials don't know exactly how the small, deer-like creature escaped. They've examined the wood and wire enclosure and haven't found any holes or signs that he slipped out.
Tina Rolen, director of communications for Zoo Knoxville, said Monday evening that staff determined the gazelle's escape was not the result of any error in protocol.
"It is believed the animal was suddenly startled and jumped, managing to get through a gap in the high tensile wire that composes the upper portion of the containment fence," she said.
Fodder is the zoo's only gazelle, and he shares the Grasslands Africa habitat with the giraffes, zebra and waterbuck.