Thanks to donations from rival fans across the Southeastern Conference, one Morristown cancer patient will finally live out a Big Orange dream he thought would never come true:
On Saturday, he will attend his first Vols game at Neyland Stadium.
In May, doctors diagnosed Kenny Warfield, 62, with stage four lung cancer, telling his family he might have as little as two weeks to live. After six rounds of chemotherapy, the cancer has now spread to his bones – but he is still fighting.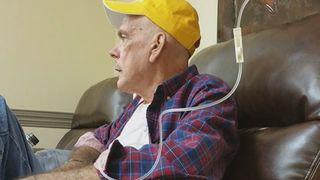 "It's been a fight all the way through, and he's fought all this way so far," said step-daughter Debbie Bell.
Bell has made a point of enjoying every moment she can with Warfield. After the diagnosis, she decided to take him to places he's never experienced, including the beach.
Finally, she decided to try winning her step-father tickets to Neyland Stadium.
"I wanted him to go and experience Neyland because he's never gotten to do that," she said.
She entered a Facebook contest for free tickets to the Alabama game on a group called "Vols for Life." Despite winning the contest, which was not administered by an official group administrator, she said those tickets never came and the Facebook user blocked her.
"It just -- it didn't make sense why someone would do that," she said, "especially when they knew the tickets were going to a stage four patient to begin with."
Matthew Stiltner is one of several people who saw the family's disappointment online.
"His story with cancer, being a Vol for life, having never been to Neyland Stadium ... I'm like, We've got to make this happen Saturday," Stiltner said.
Inspired to make a difference, he sent two of his own tickets in the mail – located right along the northern end zone for Saturday's Alabama game.
"Brother Kenny will have some real good seats," Stiltner said. "If it rains, he'll be dry. He'll have the extra stadium seating. He can see the Vols run out of the T."
"I just couldn't believe it," Warfield said, after his step-daughter surprised him with the tickets on his front porch on Wednesday. "It didn't want to sink in. I didn't know how to act or what to do, really."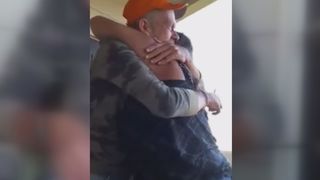 But Stiltner wasn't the only one to reach out online.
"We have people from every team in the SEC donating," Bell said. "Alabama fans, Kentucky fans, Texas A&M fans, Georgia as well, and the Florida Gators."
She said fans across those rival teams donated both tickets and parking passes to games against Alabama, Kentucky and Tennessee Tech.
"There's some awesome people still around," Warfield said.
"For every bad apple, there are several thousand people that will come together behind the scenes to help make good happen," Stiltner said. "That was the goal – to make sure Kenny had a dream that came true."
Editor's Note: An earlier version of this article incorrectly identified Debbie Bell as Kenny Warfield's daughter-in-law, rather than step-daughter.