After two months of construction delays, the first round of tenants are moving into their new apartments at The Standard.
Since August, construction delays at the private, off-campus site forced many students to stay in hotels.
On Sunday afternoon, students on the first four floors of the eight-story development were able to move in as the developer began phased occupancy.
"It's nice to finally be moving in here in October, two and a half months after school starts," UT senior Jack McPherson said as he unpacked his belongings from his SUV, "but I feel really bad for floors five through eight, who clearly aren't going to move in with us today."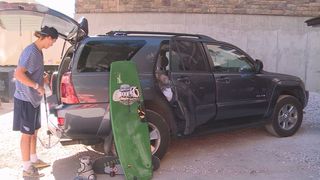 As dozens hauled their belongings into apartments they thought would have been ready months ago, they had to circumvent crews actively working on the on-going construction site.
"It's definitely stressful having to move up five flights of stairs, and go through all the construction men, plus all of the chaos that's going on today," McPherson said.
"There are footprints from the gravel and sawdust all over my floor," said Mindy Harold, a UT sophomore who struggles with asthma.
She said the debris from all the construction made her uneasy.
"You look out my window, and you see a complete construction site. There's nails, boards, laying all over the place."
On Sunday, 10News reached out to the apartment owner, Landmark Properties, but did not hear back.
In September, a company spokesperson said tenants could terminate their lease with no penalty if their unit were not ready by October 12th.
He said the company was doing everything it could to finish construction for all floors by that date.
In the meantime, The Standard has been offering displaced tenants $125 weekly gift cards, while either housing them in hotels or giving them rental account credits.
RELATED: Game day forces displaced students to leave hotels
Landmark Properties is also behind on at least two other major student housing projects across the country and recently faced setbacks on a third, including projects in Pennsylvania, North Carolina and Louisiana.
Spokesperson Cody Nichelson shot down reports that The Standard at the University of Florida in Gainesville is behind schedule, calling them false. He said the project is "tracking well ahead of schedule."
He noted that all the company's other projects are set to open on time.
"For the first 10-plus years of our company's history, we delivered every project — more than 30 across the country — on time, setting a new industry standard and being named the nation's top student housing developer," Nichelson said in a statement to WBIR. "This fall, we have delivered four of six projects on time, and all seven of our 2017 deliveries are tracking on or ahead of schedule, as confirmed by third-party inspectors."
For now, students on the first four floors are hoping move-in is the end of their worries.
"It's a huge relief to finally have a place to stay near campus that we know we're not going to get kicked out of," sophomore Marissa Coggins said.
Mindy Harold was cautiously optimistic: "Hopefully, everything is going to be working -- like our plumbing and electricity -- and it's not going to affect anything with all the construction going on."
Still no word on when students on the top floors will be able to move in.