Rugged, remote, roughing it. These are not words you would use to describe Camp LeConte.
The boutique outdoor resort brought "glamping" to the Smokies four years ago. Now, Camp LeConte is yet again diversifying the outdoor experience with retro campers.
"I love the mountains. I love nature. Love doing s'mores," said Linzy Nicely.
But she's never been a camper.
"I like to be on my Wi-Fi. I like to take a shower," she said.
So when her husband approached her with five-acre business proposition, she had one condition.
"I said yes, I'll do a campground, but let's put a little glitter in it," laughed Nicely.
Four years ago they brought glamping - glamorous clamping - to the Great Smoky Mountains with Camp LeConte Luxury Outdoor Resort.
They transformed a 1960s campground with safari tents from the Netherlands.
"It basically looks like a cabin, but it's canvas," said Nicely.
They also added tree houses in addition to RV hookups and traditional tent sites.
"When you walk out you're about 30 feet off the ground," said Nicely, describing the tree houses. "You have a gorgeous view of Mount LeConte.
Both are complete with "glamping" amenities like air conditioning, electricity, a bathhouse, laundry facility and even a swimming pool. Still Nicely and her husband felt like something was missing.
Then, Mother Nature blew through in May.
"This was our largest tree that got blown over and it damaged most of the safari tents in this area," said Nicely, pointing to a section of the campground.
PREVIOUS: Downed trees, high winds damage Gatlinburg businesses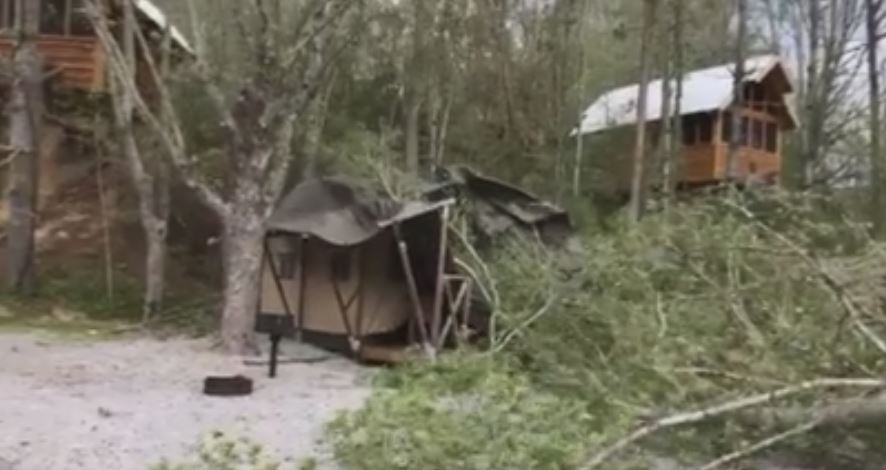 They repaired all but two safari tents and decided to go retro.
"These are retro campers," said Nicely. "We have two - the Ruby Red Slipper and we have Glamping at Tiffany's."
Both are 2015 replicas of the 1961 Shasta Airflyte campers. The Ruby Slipper is 19 feet.
"We say two comfortably, but it does have a pull out bed where it can sleep additional people. The Glamping at Tiffany's is a 16-foot camper. It's perfect for a romantic getaway."
And yes, both are complete with all the modern day conveniences from a refrigerator and TV to a fire pit and grill. The campers rolled out a month ago and are already a bright spot with glampers and the Nicelys.
"I'd been wanting to do the retro campers and so it was really a blessing in disguise to turn something negative into something positive," Nicely said.
Camp LeConte opens in March and closes after Thanksgiving weekend.