More than six decades of East Tennessee history now sits at your fingerprints --- accessible with a simple library card and a computer keyboard.
The 18-month-long "From Papers to Pixels" campaign to put a digitized version of the Knoxville News Sentinel spanning 1922-90 online is ready, and the Knox County Public Library Foundation wants to celebrate.
The foundation at noon Tuesday will formally donate the digitized archive to the Knox County Public Library during a luncheon at the East Tennessee History Center.
It used to be if you wanted to track down old articles from the newspaper you had to squint through spools of microfilm. It could take hours to find anything close to what you wanted.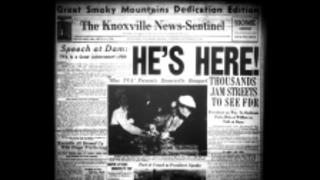 Digitization means all you need to do is give the computer some search terms. It'll do the rest.
For example, are you curious about who may have lived in your old Knoxville house back in the 1950s or 1960s?
Run the address in the database and watch how it comes up in old articles. It may surprise you.
To use the database, you just need your library card. That will allow you to log in to the library on the internet.
Not only will you be able to look at the stories themselves. But you can also see the actual daily newspaper pages - headlines, photos, ads and all.
The foundation raised almost $600,000 for the project. Many organizations and individuals gave to help it succeed.
Longtime News Sentinel columnist Sam Venable, now retired, served as honorary chairman of the fundraising campaign.