A small and heartfelt group met in downtown Sevierville on Tuesday night to pray for those who have suffered in the Sevier County fires.
The dozen or so folks gathered outside the Sevier County Courthouse for "a simple prayer."
More: At least 3 fatalities in Sevier County fires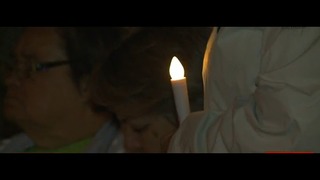 It was the idea of Thomas Remmer of Jefferson County to hold the vigil.
Related: What's been lost, what's still standing
"I just had it on my heart just to pray for all the people affected by the fires," Remmer said.
Some of those who attended had to evacuate themselves. Others were moved by the misfortune their fellow Sevier Countians have experienced.