With no access to a kitchen, eating out has become a daily norm for Candido Melendez and his family of five.
Ever since wildfires ripped through their Gatlinburg apartment three months ago, Melendez and his wife, as well as their six-year-old and two teenage sons have been moving from hotel to hotel.
"I want to have an apartment, my own place. I have nothing," Melendez said in translated Spanish.
They now stay at a Quality Inn near the Parkway - their third hotel since the fires.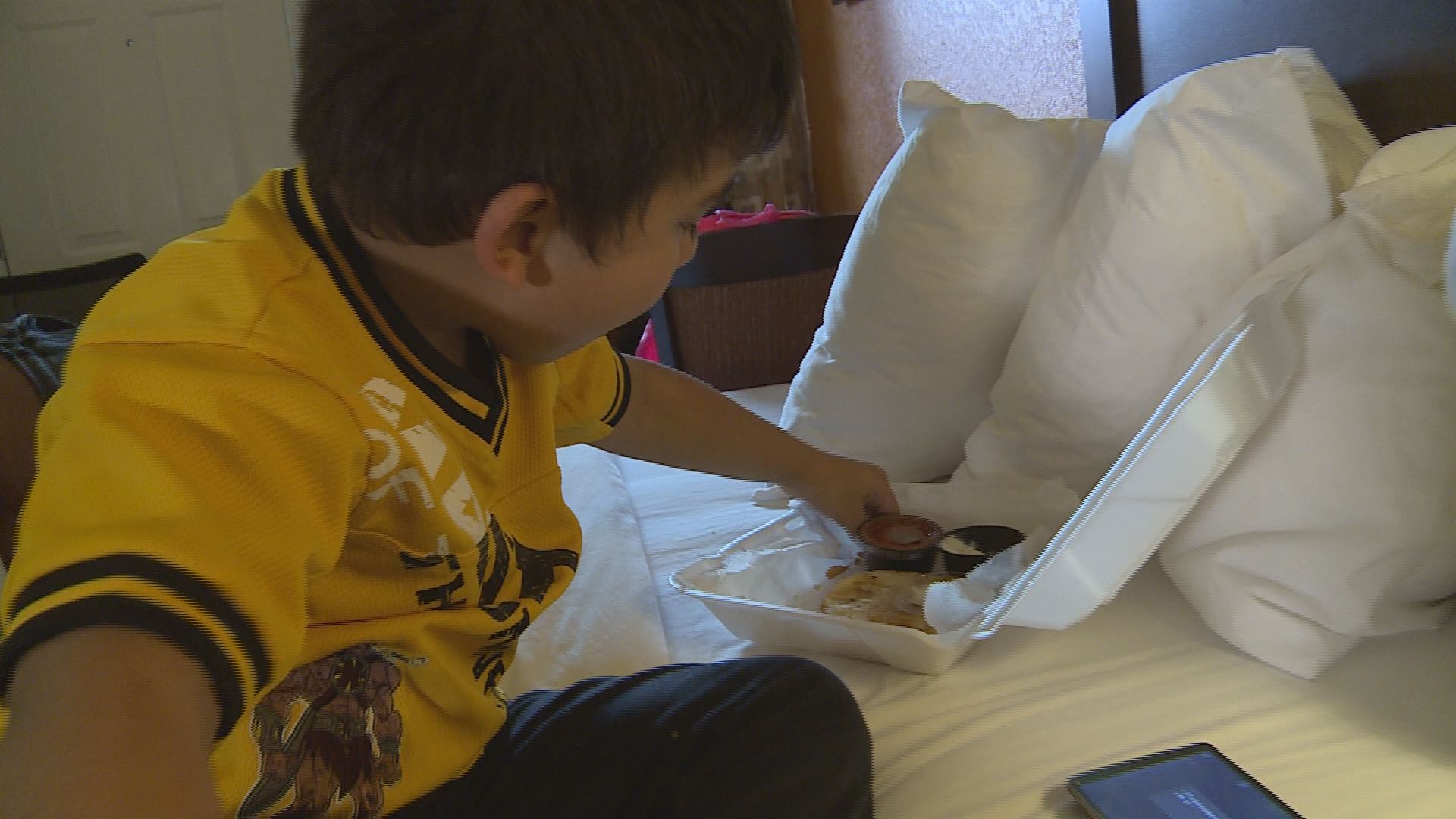 Melendez said the family has been surviving off his job there, as well donations from the Red Cross and the Dollywood Foundation, but finding an affordable apartment near his current job and his son's school has proven arduous.
To complicate matters even more, a recent back injury has prevented him from going into work for the past several days. While he continues to look for an affordable apartment, the daily hotel living is taking its toll.
"They feel bad. The little one is especially telling me, 'Lets leave, let's get out of here. I want to go home,'" he said.
But for the Melendez family, and many others in Gatlinburg, finding a new home isn't so simple.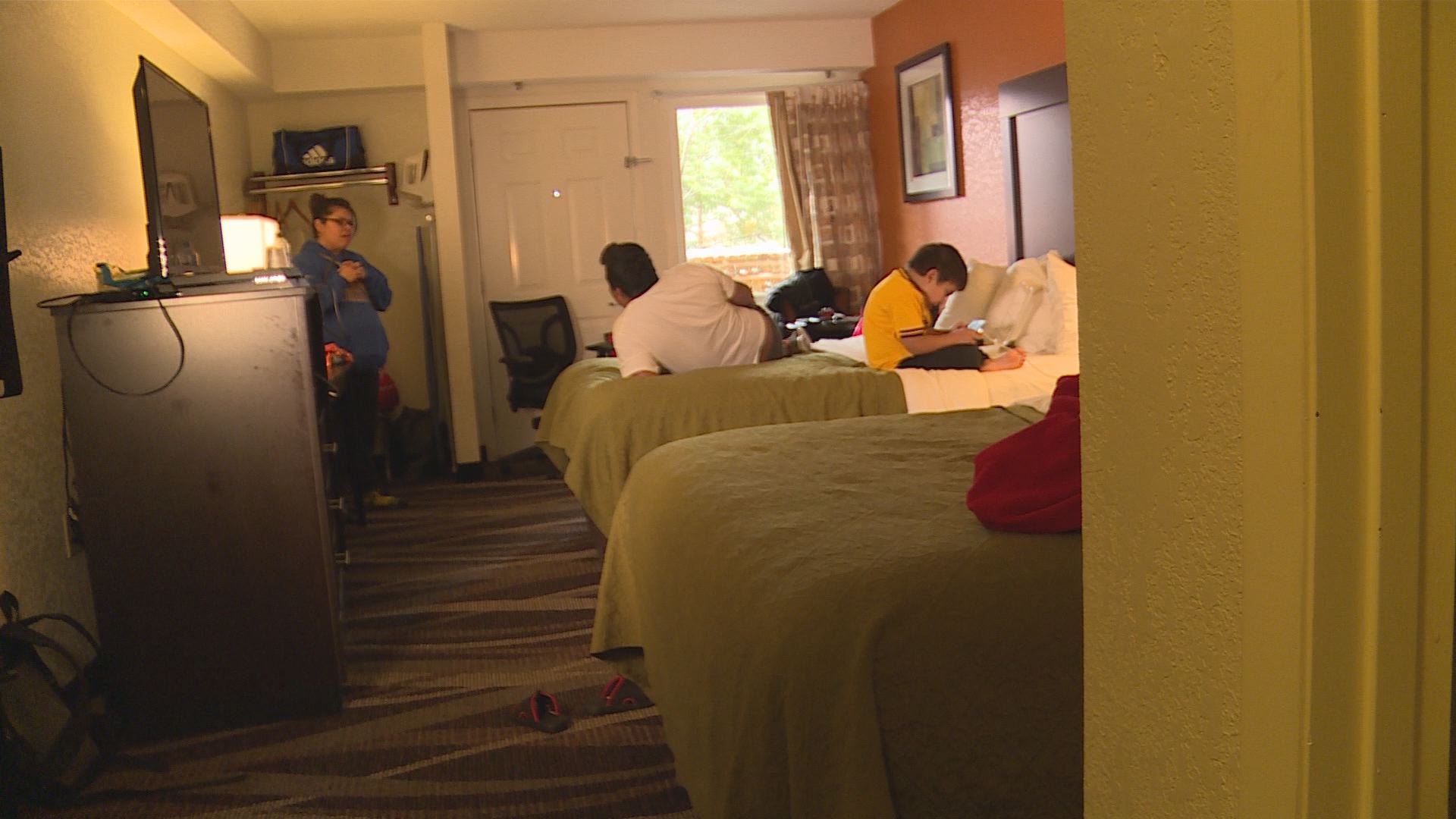 The Fair Market Rate for a one bedroom apartment in Gatlinburg is $563. Many families in the area are making minimum wage, and under that rate an adult would have to work 60 hours per week to make rent -- just for that modest one bedroom apartment.
Three months after wildfires ripped through Gatlinburg and damaged 1,100 homes in the city, affordable housing is the number one unmet need in Gatlinburg.
It has forced many victims without insurance to find refuge in motels and other temporary living situations.
RELATED: Housing shortage hurting wildfire survivors
The Tennessee Valley Coalition for the Homeless has identified 130 families in need of housing assistance. Of those, 31 are still living in motels.
Melanie Cordell, the organization's CEO, said since December, a $175,000 grant from the Department of Housing and Urban Development has sat largely untouched, because the money had to be used on apartments at the Fair Market Rate.
The coalition has been working to aggressively re-house displaced victims since receiving a waiver from HUD in mid-February. Thanks to that waiver, the coalition is now able to disburse their portion of the $175,000 grant to quickly re-house those victims in housing that is over the Fair Market Rate.
MORE: Feds grant waiver for wildfire housing relief
The group aims to house 50 families by the end of March.
"And so now we're going to be able to get them housed, and they're going to be able to eat properly. They're going to have a much greater room to be able to play in, and so it's going to be a great situation," Cordell said.
With the combined HUD aid and additional donations from the East Tennessee Foundation, the coalition is placing displaced families in apartments with one year leases. Families only have to pay half the rent for months 2 through 12.
Still, those temporary housing solutions do not solve Sevier County's long-term housing shortage.
"We are in need of housing. There's no question," said Allen Newton, executive director of the Sevier County Economic Development Council. "We have to look really hard to try to find availability around Sevier County."
Before Nov. 28, the Economic Development Council had already commissioned a study to evaluate the county's housing needs.
"Since the fire, we have gone back in and updated what we're looking for - including what the cities and the counties are doing incentive-wise to help developers build workforce housing here in Sevier County," Newton said.
Housing officials will consider several economic drivers, including possible tax incentives, pilot programs or infrastructure aid to attract new housing developments. Newton said the private market will be better equipped to stimulate the housing market than the county government.
"What we want to do is try to create an environment where developers will want to build housing here," he said.
The housing study should be returned in mid-March. In the meantime, Newton said the Sevier County Planning Commission is already reviewing several proposed projects, including one in Gatlinburg and another in Sevierville.
For Melendez, that assistance could not come soon enough.
"I feel bad, because the way we are is not a good place," he said.