For Kingston Police Sgt. Jerry Singleton, Sunday, Aug. 6 was supposed to be a special day.
"It was mine and my wife's one year anniversary," said Singleton. "We had been married one full year."
His wife, Jenny, had asked him to stay home so they could celebrate together, but Singleton refused to call in sick.
It was a typical night at work on patrol around Roane County until Singleton responded to a call of a potential DUI a little before 11 p.m.
The 30-year law enforcement veteran pulled over a blue Dodge Dakota being driven by Henry Nicholas Brown on Highway 58 in Kingston near the Southwest Point Golf Course.
"The guy pulled over," said Singleton. "I mean, it was textbook. He got across the bridge and pulled over into the gravel."
When Singleton asked Brown for his driver's license, Brown put the truck into drive and sped off, running over Singleton with a car hauler the truck was pulling.
"I'm laying there looking up at the rain clouds and I knew it was pretty bad," said Singleton. "My partner looked at me and this 'oh crap' look on his face."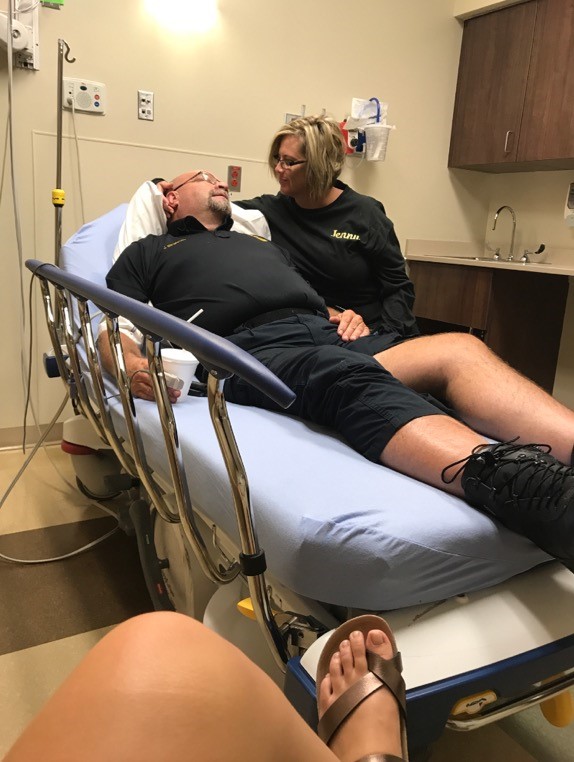 Singleton was rushed to the Roane County Medical Center and then the University of Tennessee Medical Center where he received treatment for a broken leg.
"I was terrified," said Jenny Singleton. "Once we figured out it was something major, I was terrified."
Sgt. Singleton was released from the hospital on Tuesday and is now resting at home.
Doctors hope that his bone will heal properly and he will not need surgery.
Singleton has received dozens of calls, texts and notes from well-wishers and wants to thank the Roane County Sheriff's Department, the fire department, the ambulance service and his colleagues at the Kingston Police Department for taking care of him that night.
He'll be back to work as soon as he can.
"This is going to heal up in time," Singleton said. "I'm going to go back to work. This isn't going to keep me down."