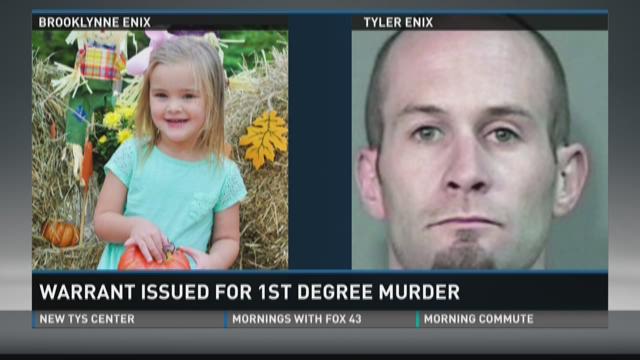 KPD UPDATE THURSDAY MORNING: Click here for the latest information
(WBIR - KNOXVILLE) Authorities are continuing to look for a missing 2-year-old girl on Thursday morning after Knoxville police issued a warrant for the arrest of the girl's father. The father is charged with first-degree murder of the girl's mother.
Knoxville police are still looking for Brooklynne Enix as of Thursday morning. Investigators believe her father, Tyler Enix, kidnapped her after killing her mother.
The mother, Kimberly Enix, was found dead in their Fountain City condominium.
Knoxville police have charged Tyler Enix with first-degree murder of Kimberly Enix, according to a release late Wednesday from the Tennessee Bureau of Investigation.
Investigators said that officers were called to the Templeton Court condos in Fountain City to do a welfare check Wednesday after Kimberly Enix, 36, did not show up for work.
Just after 2 p.m., they found Kimberly Enix dead inside her condominium, but her daughter, Brooklynne Emerie Enix, was no where to be found. Brooklynne has blonde or light brown hair, is 3 feet tall and weighs 38 lbs.
Investigators believe Brooklynne could be with her father, Tyler Enix, 36. He is 6'2", 205 pounds, and is bald. The two may be traveling in a 2011 black Impala,with Tennessee tag #G61-16U, that belonged to the woman who was found dead.
If you see her, you are advised to call 911.
Late Wednesday night, TBI said authorities have been following up on a variety of tips, but are not sure where Tyler and Brooklynne have gone. 
KPD said Tyler Enix and Kimberly Enix are estranged, and they could not confirm if Tyler was living at the condo.
Authorities said Kimberly Enix had two other children from another relationship.
The TBI issued a statewide Amber Alert so that people across Tennessee will be on the lookout for the pair. It said that Brooklyne was last seen at her apartment yesterday.
Sources tell 10News that Tyler Enix's father owns Enix Jewelers in Halls.
Tyler Enix, 36, has a history of aggression toward others, including his ex-girlfriend and ex-wife, according to Knox and Blount county records that date back more than a decade.
Five years ago in October 2010, he pleaded guilty to aggravated assault and harassment, and received a four-year prison sentence, records show. It's unclear when he began the sentence and how long he served, but the state Department of Correction website notes that he was released in mid-July 2014.
In December 2004, he pleaded guilty to domestic assault after he physically attacked his then-ex-girlfriend after she broke up with him.
In July 2001, he pleaded guilty to harassing and stalking his former wife. He was sentenced to a year in jail, according to Blount County records.