While several fire crews work to contain a 100 acre wildfire on top of Clinch Mountain in Grainger County, firefighters are thanking neighbors for pitching in to help.
The fire broke its containment line overnight on Thursday, and on Friday came dangerously close to a wooden home at the top of the mountain, making every leaf-blower, bulldozer, and willing hand a critical help.
"I'm feeling very concerned for my neighbor. My neighbor is very upset and afraid," said Jeff Benton, who lives yards away from the home closest to the fire line.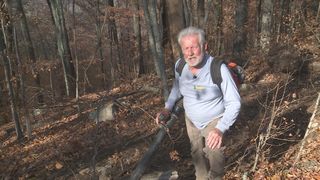 Although his home is the second closest structure to the fire, his primary concern was for his neighbor's house – just feet away from the flames. "He's spent a lot of effort and time to getting this house put together, and now he's afraid that it'll get destroyed," Benton said.
It's why Benton picked up his blower and cleared leaves from the fire's path, while fire crews back burned and bulldozed containment lines just feet away.
But Friday wasn't the first day civilians took the Clinch Mountain fire into their own hands.
Brycen Gust is the co-owner of Timbercraft Log Homes, the company that built the wooden homes most immediately threatened.
On Thursday night, moments after the fire first sparked, Gust saw the flames approaching his old customers' homes and jumped in to help before the state Department of Agriculture Division of Forestry arrived.
"Basically, just trying to buy time until Forestry could get their dozers up there," he said.
Bean Station Volunteer Fire Chief Ron Wonderly said every hand helped. "Very much help. I mean, food, water... Plus, just stepping in with leaf blowers, rakes, everything they could," he said.