Two dogs who were surrendered to Young Williams Animal Center earlier this year have a new chance at life.
Roxie and Bear Bear came to the shelter with health issues. Roxy was covered in ticks, and Bear Bear was suffering from a condition called entropion that prevented her from seeing for the first year of her life.
"That means her eye lids rolled into her eyes," said Medical Director Jen Armstrong. "It was like constantly having something in your eyes. When she blinked it was like her eyelids were rubbing against her eyes."
Dr. Armstrong was able to perform surgery allowing Bear Bear to see for the first time. She also treated Roxy for tick borne illness.
"Roxy was definitely the one that took care of Bear Bear. Bear Bear was the more timid, and the more shy one. Bear Bear really came out of her shell when her eyes got fixed," she said. "She was a lot more comfortable after that."
But because of their bond, Young Williams wanted the pair to be adopted together.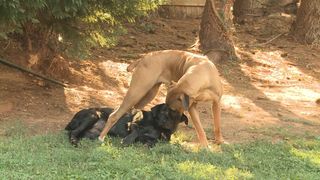 The Wade family saw Roxy and Bear Bear on Live at Five at Four and found their new family members.
"They are the best of friends," said Ashley Wade. "They are very protective of each other. They love to play, wrestle. They just stay together all the time."
The Wade family gave them new names, Charlie and Daisy, and they haven't had any issues with their new pets despite their health history.
"I personally am drawn to those dogs because I know they are probably not going to be the first ones adopted," Ashley said. "And knowing that they had been at the shelter a month we knew we wanted to bring them home."
Their new life hasn't changed one thing, though. Charlie is still very protective of Daisy.
"When you see them together, Charlie is definitely the outgoing dog and is the dominant one. Daisy is more reserved and shy, but together they are just the sweetest dogs."
The vet staff at Young Williams are grateful knowing two of their former patients are doing so well, and they hope it encourages others to get out and adopt.
"All they want is to be loved and kissed, and to find a good home," said Armstrong. "And you're saving a life when you come and adopt from a shelter."