The Emerald Youth Foundation announced plans Thursday for a $10 million multi-purpose facility in the Lonsdale neighborhood.
The project will have two synthetic turf fields for soccer, flag football and other sports; a 30,000-square-foot facility with a learning center; two full-size gymnasiums with basketball courts, locker rooms, concessions and kitchen; fitness area with weight room; dance/aerobics room and cardio theater; an assembly room for gatherings; and a worship and performing arts area with practice rooms.
The complex will be develop and operated by the Emerald Youth Foundation. It does require approval by the city, county and Knox County Schools.
It is planned to open in late 2018.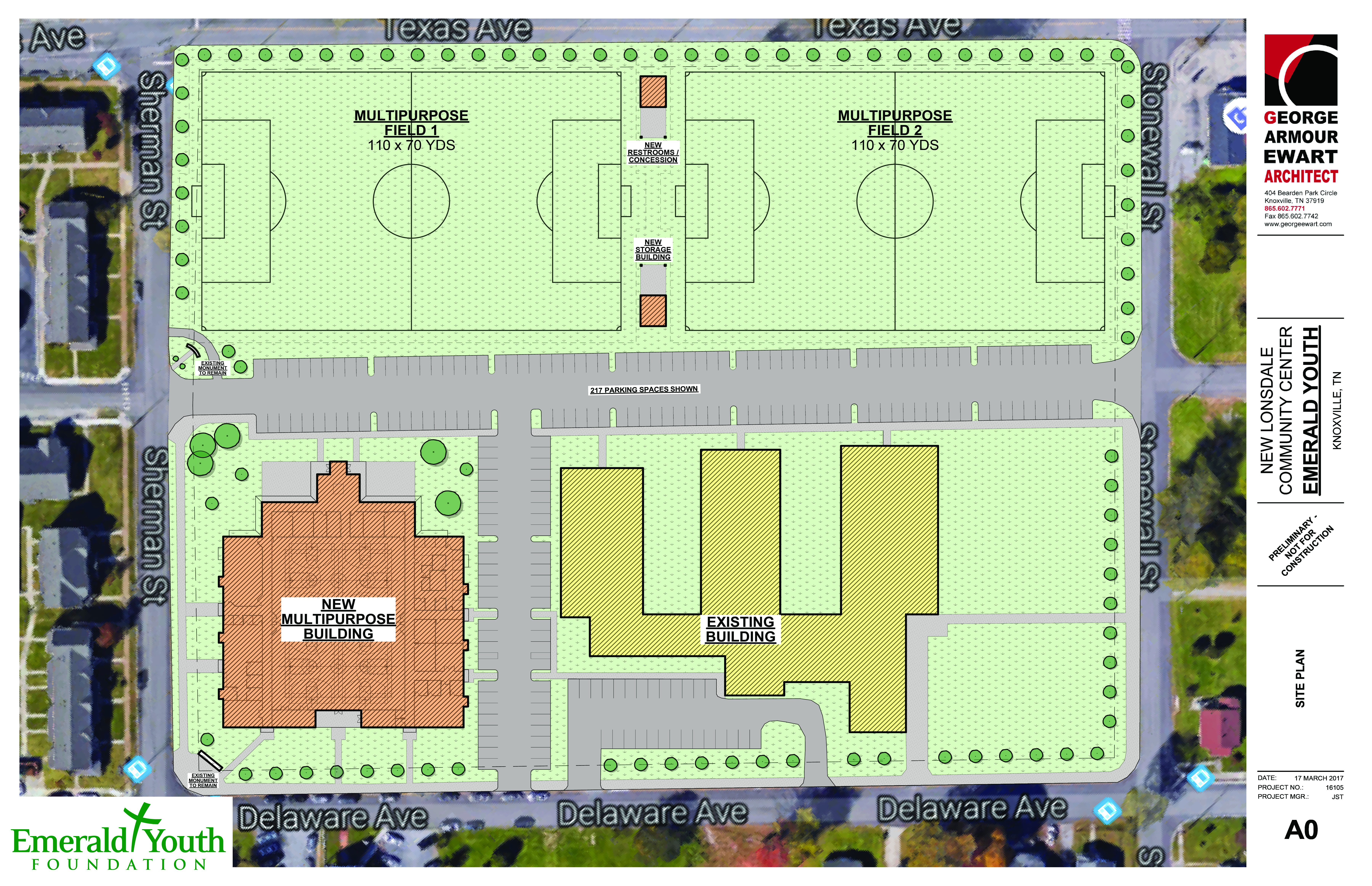 PREVIOUS: Leaders considering proposed multi-use sports center in Lonsdale
EYF President and CEO Steve Diggs said in a statement the project is about "addressing a need that has been outlined by Lonsdale residents for many years."
"Our hope and our prayer is that it will be a transformative addition to the neighborhood, and a transformative addition to the lives of the young people it will engage," he said.
The Emerald Youth Foundation said the project will cover an entire city block. It will be located along Texas Avenue between Stonewall and Sherman Streets on land currently owned by the city of Knoxville.
A spokesperson for the city of Knoxville said the owner of a convenience store at the corner of Texas Avenue and Stonewall Street has agreed to sell their property to the city.
"There have been complaints alleging illicit activities at the site in the past, and the building will be demolished as part of the larger redevelopment project for the neighboring blocks," Eric Vreeland, deputy communications director for the city of Knoxville, told WBIR 10News.
The project will also use a portion of unused property next to Sam E. Hill Preschool adjacent to Lonsdale Homes, and a section of Minnesota Avenue will be modified for parking.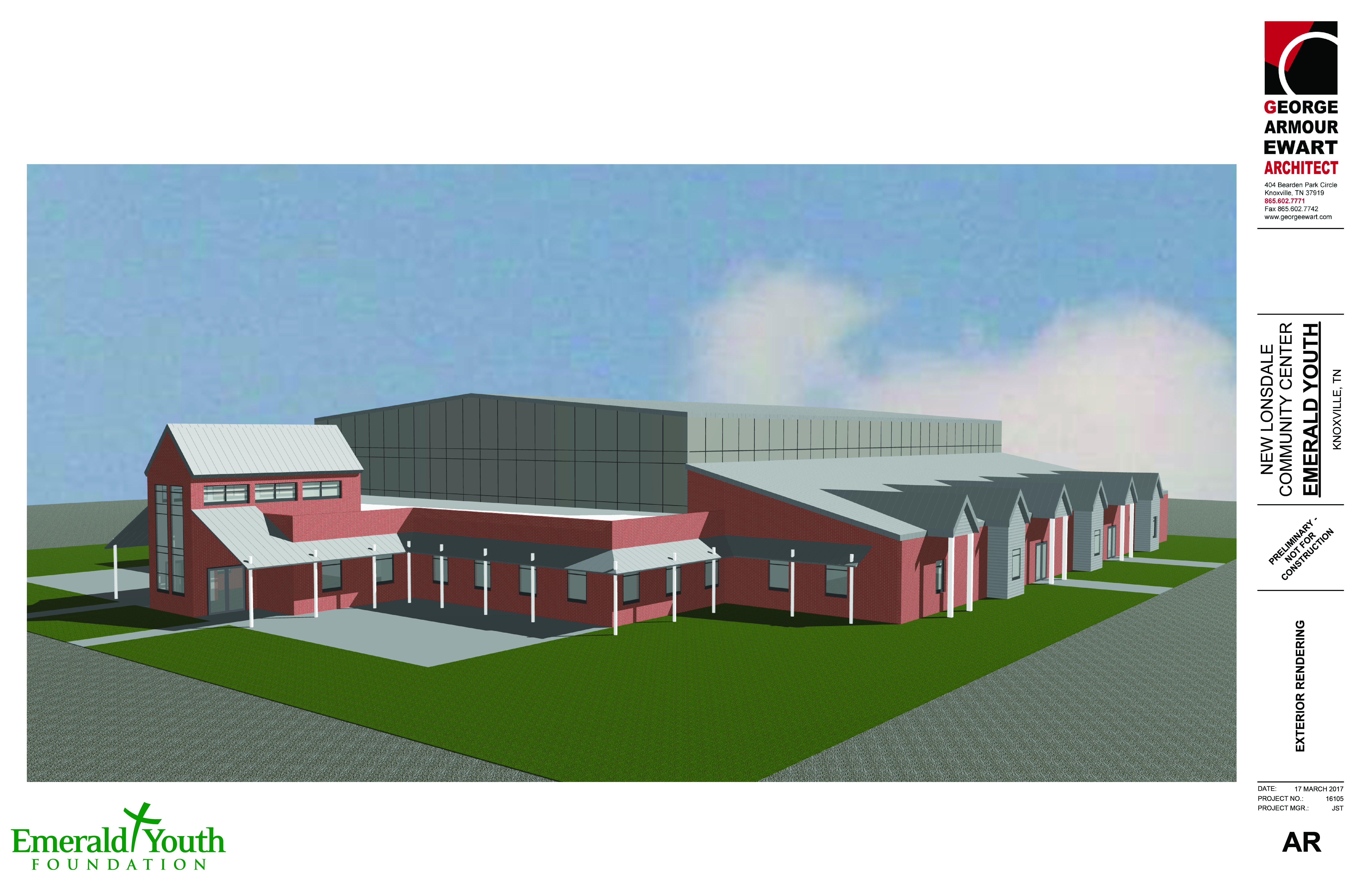 "A complex like this one in Lonsdale will be a game changer," Knoxville Mayor Madeline Rogero said in a statement.
Knox County Mayor Tim Burchett said the center "could make a long-term difference in Lonsdale."
The announcement comes a few weeks after a shooting in Lonsdale killed one man and injured several others. The neighborhood has seen several shootings, including a gang-related shooting in December 2015 that killed 15-year-old Zaevion Dobson.
EYF said the project is estimated to cost $10 million. Construction will be funded through private donations, and the city has proposed to streetscape the area.
While the community is excited for a new facility for their youth, many neighbors have questions before they can put their full support behind the project.
Before building begins, some want to make sure fees don't make it exclusive.
"When things don't become accessible to you, and you are looking at it every day, it's like you're on the outside looking in, and you want to be and do what the people on the inside are doing," said Churchie Riley.
Riley has lived in Lonsdale her whole life and wants to see a place families can enjoy together.
"You know, throw a birthday party without having to pay to use the facility or we can throw a reunion without paying to use the facility," said Riley.
The proposed project would take over a space that currently houses free picnic tables and a gazebo.
"I see nothing but positive change, I want to encourage this community before you jump to conclusions, there will be meetings to come out and voice your opinions," said David Gillette, Neighborhood Advisory Council, District 6."
Neighbors hope as city leaders look to bring positive change, they continue to protect what the community already has.