Knoxville police released Wednesday morning the names of two young students and an adult who were killed a crash involving two school buses Tuesday afternoon.
Police said officials pronounced 6-year-old Zykia Burns, 7-year-old Seraya Glasper, and 46-year-old Kimberly Riddle dead at the crash scene on Asheville Highway near Governor John Sevier Highway.
Kimberly Riddle was a teacher's aide and a youth minister at Mount Calvary Baptist Church.
RELATED:Church remembers school aide killed in school bus crash
University of Tennessee Medical Center spokesperson Jim Ragonese said doctors treated a total of eight patients and have released six. Knoxville police confirmed that two of those patients are 7-year-old Jaden Allen and 7-year-old Jada Parman. Ragonese confirmed that Jada Parman is serious. No information was available on Jaden Allen.
Knoxville Police said one of the bus drivers, James Davenport, was among the eight patients transported to UT Medical Center. Davenport was treated for non-life threatening injuries.
What police say happened
School officials said James Davenport, 47, of Mascot drove bus No. 44 from Chilhowee Intermediate. Authorities said Davenport was traveling east on Asheville Highway when he made a sharp left-hand turn and crossed over a concrete median.
RELATED:Student recounts what happened during school bus crash
Davenport's bus then hit the side of Knox County School bus No. 57. Bus No. 57 flipped onto its side and continued sliding until it came to a stop across both westbound lanes.
Knox County Schools said Joe Gallman, 67, of Knoxville drove bus No. 57, which was carrying students from Sunnyview Primary School.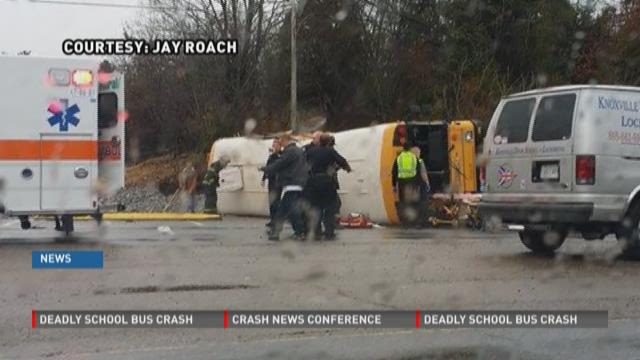 Victims transported to Children's Hospital
Eighteen additional children from bus No. 57 were transported non-emergency to Children's Hospital. Several parents of students traveling in bus No. 44 also took their children to Children's Hospital for observation.
Ryan Redman, the emergency room director for Children's Hospital, said the majority of the students were treated for bruises, bumps and cuts. All of the children at Children's Hospital were discharged as of Tuesday evening.
Aftermath of the crash
The Knoxville Police Department's Fatal Accident Investigation Unit and the National Transportation Safety Board will continue to investigate the crash Wednesday, according to a police release. Officials said they'll continue to interview people about what happened.
Police said it took crews about eight hours to clear the crash. Officials reopened Asheville Highway at about 11:30 p.m.
RELATED:2 Knox Co. schools closed Wednesday after deadly bus crash
Knox County Schools announced Tuesday night that there would be no school Wednesday for Sunnyview Primary and Chilhowee Intermediate. However, counselors will be at the two schools from 10 a.m. to 2 p.m. for anyone who wishes to talk with them.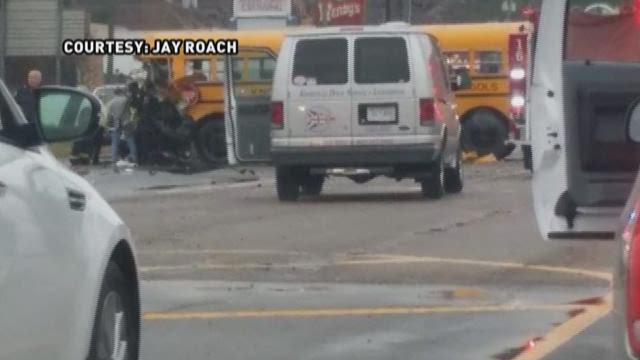 "An unspeakable tragedy"
Knox County Schools Superintendent Jim McIntyre called the wreck an "unspeakable tragedy" and said grief counselors will be available for students this week.
Knoxville Police Chief David Rausch,who was at the scene, said there's been a strong outpouring of support from the community and rescue agencies, all helping to work with officials and the families.
Holding back tears, he asked the public to "pray for the loss of lives."
"It's a horrible tragedy - our hearts go out to the families who have lost loved ones today," he said.
Rausch said the students "were obviously scared," and that social workers and volunteers are meeting with them as needed.
Knox County Schools directly contacted family members of those aboard the buses.
Police said Robert Burroughs owns bus No. 44 and Fawver Buses owns bus No. 57.