One East Tennessee school says it's never too soon to prep children to become informed voters.
At Anderson County Schools Preschool in Clinton, students as young as three years old are learning everything from the history of voting in America, to who can participate in the election and the importance of voting.
As a part of the three-week project, Courtney Bass's class of preschoolers and Head Starters held their own class election on Monday.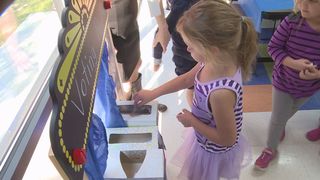 It's a part of the school's new initiative to include more project-based learning.
Bass said the idea for the election started during a lesson about the presidential office.
"One of the kids said, 'Why can't one of us be president? Why can't we do an election in the classroom?'" she said. "Now they've taken ownership of it."
From there, students created their own parties, nominated their own candidates and - before casting their first ballots - wrote down some debate questions as a take-home assignment.
Most of the questions weren't so controversial: "Will you give me more time on the playground?" asked 5-year-old Laci.
The class election comes one week after students across Tennessee participated in the first state-wide mock election.
More than 165,000 students voted across 479 schools. Republican candidate Donald Trump beat Democratic candidate Hillary Clinton in that mock election, with Trump receiving 53.1 percent of the votes compared to Clinton's 34.3 percent.
But in Bass's classroom, it's not about teaching students which party to side with, it's about the kids discovering their voice early on.
"If we start the kids younger and telling them (voting) is your right, then it really instills that in them," Bass said. "One of the things I've told them is unless you voice your opinion, nothing is ever going to change."