Nearly 100 documents, images and videos released Friday by state forestry officials in response to a public records request provide further details of the timeline state officials followed as wildfires swept through parts of Sevier County last November.
The records also included information about every wildfire that happened in Tennessee in 2016, as well as a timeline of the deadly Chimney Tops 2 fires and some suggestions for the future.
The files, included a PowerPoint prepared by the Tennessee Dept. of Agriculture's Division of Forestry, listed suggestions including completing after action reviews, more training, better equipment and the need to strengthen partnerships between agencies.
The presentation ended by saying, "Everyone should be ready ... it will happen again!"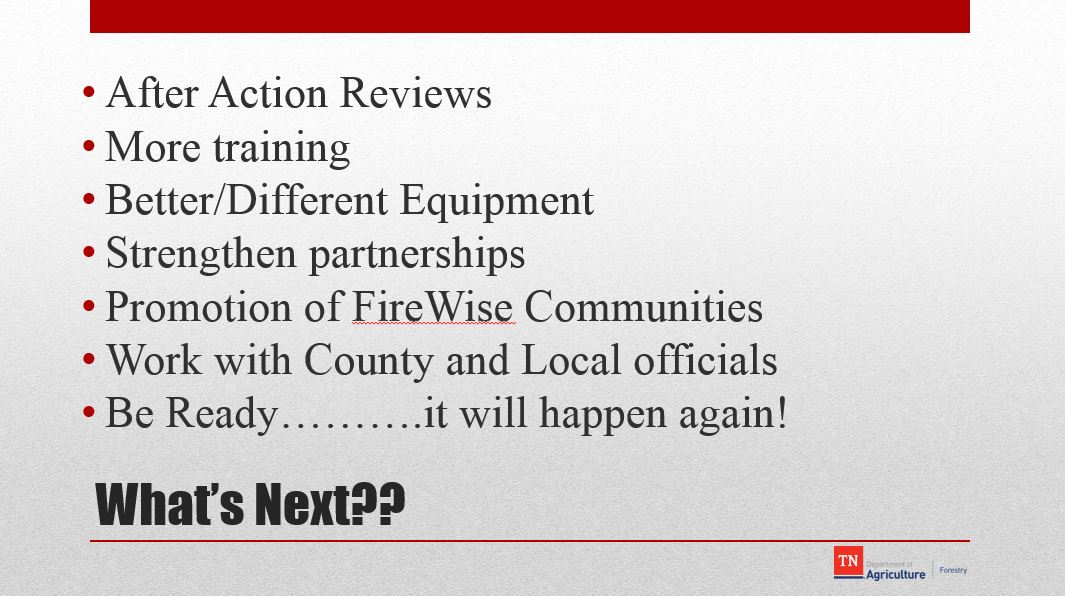 A timeline laid out by forestry leaders showed how quickly the fire took over the night of Nov. 28, 2016.
Around 11 a.m. that day, state forestry officials got a call from park officials requesting help that the fire was spreading toward private land.
Shortly after, they ruled out an air attack because of the smoke and wind.
Forestry officials headed toward Mynatt Park to meet up with the incident command.
At 12:45 p.m. District Forester Baily and Incident Commander Ward arrived to try and find the command post but they said the "fire department was all poorly organized at best."
Additional crews arrived to help.
Later that day, around 7:45 p.m. they received word people were trapped at Park Vista Hotel. They immediately responded to rescue those individuals.
Around 8:13 p.m., the documents mention a voluntary evacuation.
The next day, a firefighter recounted that night in a video taken off Baskins Creek Road.
"What's eerie and kind of bothersome with me is the fact that I saw all this before it got dark and of course, everything was still standing and people were asking me when should I evacuate I tried to encourage them to go ahead and go and hopefully they all did. I haven't heard of any fatalities here so hopefully that's what happened," said the unnamed firefighter.
Everyone later learned 14 people died during this fire.
PHOTOS: Division of Forestry images of the November wildfires
Photo courtesy Tennessee Department of Agriculture Division of Forestry.
Photo courtesy Tennessee Department of Agriculture Division of Forestry.
In a document titled "Observations and suggestions pertaining to the Fall Fire Season Events" says state agencies should work with and encourage law enforcement, TEMA and state fire marshals to develop evacuation protocols.
It asked, "Do you think the loss of life would have been reduced if evacuation plans were in place and evacuations were ordered when Park declared a monster was heading to Gatlinburg?"
Inside all the documents there was also a letter from a Gatlinburg resident thanking the Division of Forestry for their bravery.
The writer called the forestry firefighters "Angels of God," for saving their family and their home off Smokey Bears Way.
Editor's Note: A previous version of this story misidentified the source of these documents. All records came from the Tennessee Dept. of Agriculture's Division of Forestry.