Hess Hall resident assistant Quamir Boddie and University of Tennessee freshman Andrew Kochamba have gone viral after a photo was shared on Twitter of Boddie reading a bedtime story to Kochamba.
Boddie mentioned when he first became an R.A., he sent out a questionnaire asking residents what he could do to make this year special.
"Andrew wrote that he would like me to read a bedtime story," Boddie said.
"That's typically not a request I would expect from, like, a college student or anyone - not that there's anything wrong with it, but it was just a little interesting," he said.
Kochamba said he's grateful to have such a fantastic R.A.
"I didn't know if he was actually going to do it or not," Kochamba said. "It was just a great surprise for him to come through like he did. It was good."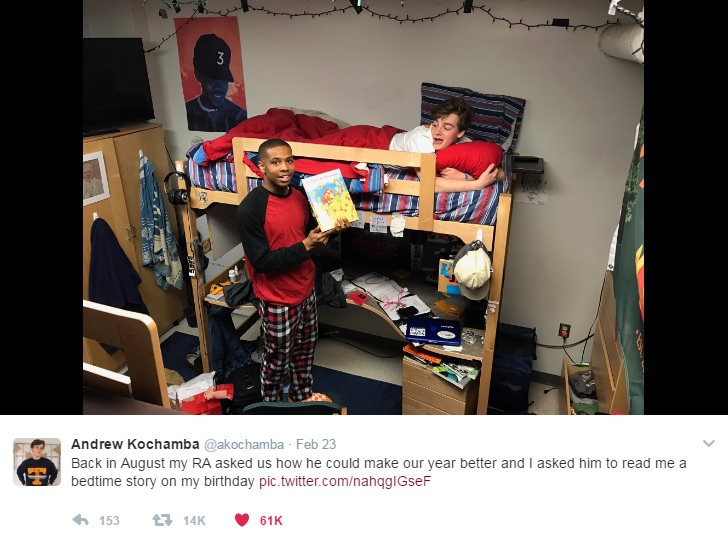 Boddie read a story that resonates with him called, "Leo the Late Bloomer." Boddie's parents reluctantly held him back in the first grade. His second year in the first grade, he read "Leo" and was inspired.
"It taught me it was OK that I had to be held back because we don't all bloom at the same time," he said.
Kochamba enjoyed the book as well, feeling comforted by it.
"Maybe my blooming is coming. Maybe I don't have to have bloomed yet. Just to have that comfort is really a blessing," Kochamba said.
Boddie hopes that his story will inspire other R.A.s across the country. Even for such a small request, it may only take a bedtime story to make someone's entire semester.