Great Smoky Mountains National Park is currently recruiting volunteers to assist the Trails Forever trail crew for a rehabilitation project on the Rainbow Falls Trail. Volunteers are needed every Wednesday from 9 a.m. to 3:30 p.m.
The Trails Forever crew will focus rehabilitation efforts on several locations along the 6 mile trail to improve visitor safety after damage from the 2016 wildfires. Rainbow Falls Trail is one of the most popular trails in the park that leads hikers to Rainbow Falls sand Mount LeConte.
Trails Forever volunteers will perform a wide range of trail maintenance and rehabilitation work depending on volunteer experience level, including installing drainage features, rehabilitating trail surfaces, constructing raised trail segments, removing brush, or planting vegetation.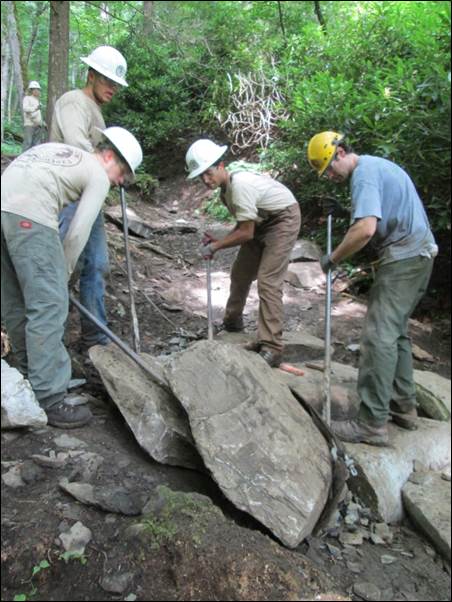 All Trails Forever volunteers must be able to hike at least four miles and safely perform difficult tasks. Volunteers should be comfortable lifting heavy objects and using hand tools like shovels, rakes, axes, and sledgehammers. The park will provide all the safety gear, tools, and equipment needed for the projects.
Volunteers will need to wear boots and long pants. They should also bring a day pack with food, water, rain gear, and any other person gear for the day.
To sign up for a day or for more information, contact Adam Monroe at (828) 497-1949 or at adam_monroe@nps.gov.
Volunteers must register at least a week in advance to help with the project.