With all the hoopla going on about this month's eclipse, wouldn't it be a bummer if the weather turned out cloudy?
That thought has crossed the minds of more than a few weather forecasters, academics, nerds and TV stations counting on fabulous images of the Aug. 21 celestial event.
MORE: Sweetwater to have great view of eclipse
RELATED: Full eclipse coverage
This is, after all, the first such eclipse to cross such a wide swath of the United States in almost 100 years. The moon will obscure the sun at certain points and positions, blocking out daylight for a brief period for affected areas.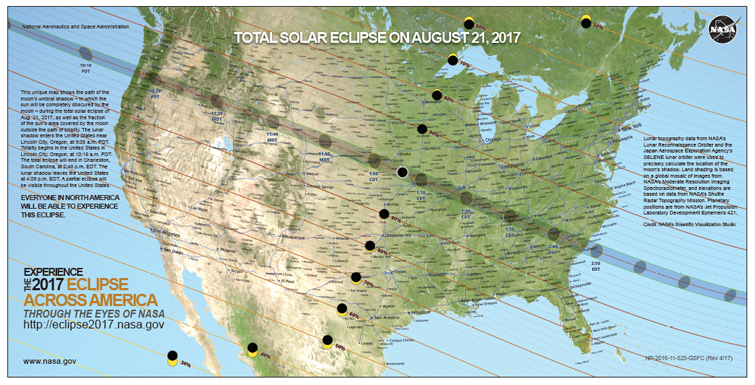 It appears the probabilities for a sunny or partly cloudy day are pretty good for East Tennessee.
Meteorologist Eric Holweg, who works in the National Weather Service's Morristown office, crunched some numbers to estimate our likelihood for decent weather on Eclipse Day.
By his calculations, there's a 63 percent chance for scattered clouds to clear skies that day for Knoxville. For Chattanooga, the probability is 64 percent. For Andrews, N.C., south of Robbinsville, N.C., in the Nantahala National Forest area, there's a 72 percent probability.
To arrive at his calculations, Holweg said he compiled data dating to 1997. He used Aug. 21 as his focal point, looking at the weather then as well as 14 days before and after that point in time.
He used historical information gathered from the airports, and he also targeted the timeframe of the eclipse. What's called "totality" will occur around 2:30 p.m. Aug. 21.
More: Best places to see eclipse
Generally speaking we're in luck because August is among our driest months of the year. On average we have a little more than 3 inches of rain in August. September and October also are dry months, according to Holweg.
Records show no rain fell in the Knoxville area on Aug. 21 in 2011, 2012, 2014 or 2015. Rain fell that day in 2010, 2013 and 2016.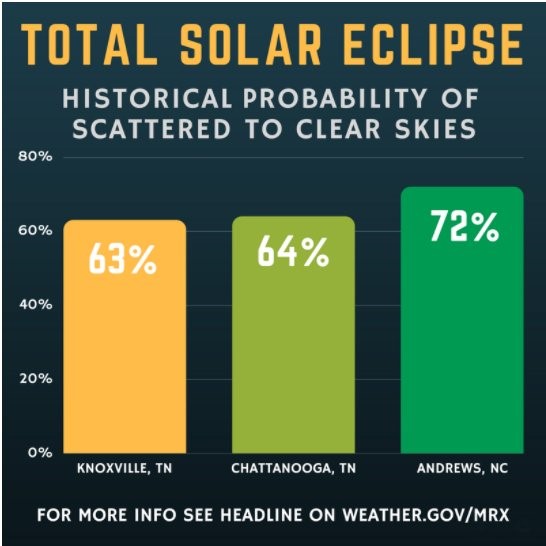 If you care about what the Old Farmer's Almanac says, it also offers good news.
The longtime weather forecaster says it anticipates "sunny and nice" weather Aug. 20-24.
East Tennessee will get to see the eclipse for a relatively long time -- more than 2 1/2 minutes in Sweetwater and Crossville, for example.
So there's a lot of anticipation about what's to come, and many businesses and governments are planning for big events in observation of the eclipse.
Some school systems are even planning to close that Monday.
Holweg said he's personally planning to take the day off just so he can view it.
"I'll be one of the most upset people," he said, if it's cloudy that day.
He won't be alone.
"It is a once-in-a-lifetime opportunity," he said. "I know people are going crazy, but I think maybe they should."