After witnessing a mass shooting inside a Florida airport baggage claim, one East Tennessee couple made some dramatic life changes.
"You always face the (front) door (in a restaurant) so you can see somebody coming in, it's just the little things," said Ryan DeSear, who recalled the 90-second horror he witnessed while on vacation with his wife, son and mother-in-law during a shooting rampage by a gunman who killed five strangers at the Ft. Lauderdale airport back in January.
"I won't let it happen again, I really won't let it happen again," said Mr. DeSear. He and his wife also sit at restaurant tables instead of booths so they can flip the table over in self-defense in case someone opens fire.
MORE: Sevier Co. family witnesses Ft. Lauderdale shooting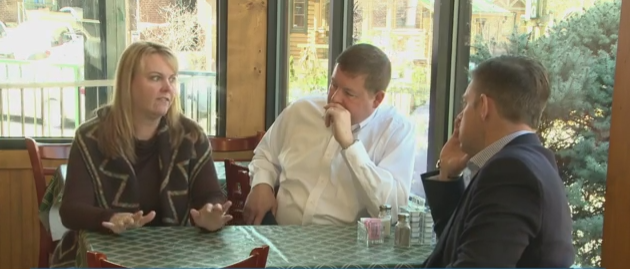 "In a place like this my anxiety level can come down a bit," said Mrs. DeSear, seated with her back to a window in a Gatlinburg restaurant she eats in regularly.
She says she feels safer there than at a big chain eatery. In the few months since the shooting Mrs. DeSear has managed to quell her fears and return to crowded places like church and the local movie theater where she initially felt extraordinarily vulnerable.
"Definitely getting there slowly but surely," she said in regards to her ability to feel "back to normal."
"Our norm was changed that day," said Mr. DeSear, who explained why he and his wife also decided to run through the training and receive a permit to carry a gun.
"We didn't even own a gun before," he said.
MORE: The decision against getting a gun
But following the shooting he said they agreed that going armed gave them both a deeper sense of comfort. They head to the range typically once a week.
The couple trained their now 12-year-old son on how to handle guns. And they are now familiar with several different firearms.
"If you would have asked me three months ago the difference between a .38 and a 9mm pistol I wouldn't have had a clue. But now I can tell you the difference and I can tell you which ones I prefer to arm myself with," said Mrs. DeSear.
In the coming days our reporting will explore that couple's reaction to the Florida shooting and how their life changes contrast with a witness to another brazen and cold-blooded shooting.
A psychiatrist offers perspective on why both reactions are in his words, "absolutely normal."