After 37 years as head football coach at Carson-Newman University, Ken Sparks announced Monday he will no longer be coaching, due to health concerns.
He said this is a very hard day for him, but "this isn't my day, this is Lord's day."
Sparks is the winningest active head coach in the country with 338 wins, 99 losses and two ties. Sparks recorded 21 South Atlantic Conference Championships and 25 NCAA or NAIA playoff appearances as CNU's head coach.
In 2012, Sparks was diagnosed with prostate cancer, a battle he's still fighting as the disease continues to spread.
Sparks coached through painful treatments for four years, but he said a recent hospitalization made his decision for him.
"I realized I wasn't a very good coach," he said of missing practice for four days while he was in the hospital. "These guys deserve better."
Sparks said he was willing to help out the university in any way he can, and that his mission hasn't changed--- "to honor and glorify God."
Fighting back tears at times, Sparks expressed his gratitude for the opportunity to coach at Carson-Newman for more than three decades.
"The support I have received over the years at Carson-Newman is amazing. I am forever thankful," he said.
Sparks got emotional when he talked about telling his players the news.
"It was not easy but special and grateful that the Lord gave me that opportunity," he said.
Sparks will focus more on his family, and his health, and is optimistic about his cancer battle, putting his faith in God.
"If we're living, we're fighting, right?" he said in an aside to his wife, Carol, during the news conference.
Tennessee Volunteers coach Butch Jones paid tribute to Sparks on Monday while speaking at a separate news conference on Monday afternoon.
"He's what this game should stand for in terms of a human being, and impacting the lives of many individuals," Jones said. "We always talk about being a champion, he's a champion in every sense of the way, and our friendship means the world to me."
Despite Sparks' many accolades, Sparks would prefer to be known for his accomplishments off the field, mentoring the young men who've come through his program to be successful in life.
"I tell our guys, 'Hey, I'm a Christian and I'm going to coach you that way,'" he told 10News in 2014. "We've had a lot of guys play professional football out of this little 'ole program, but more importantly, we've had guys be successful in many challenges of life as husbands as dads and professionals."
RELATED: Homegrown: Ken Sparks
He's won countless awards and honors over the years and is a member of six coaching halls of fame, but perhaps his most meaningful honor came in 2013, when former NFL Coach Tony Dungy presented his inaugural "Uncommon Award" to Sparks.
The Carson-Newman football team competes at the NCAA Division II level.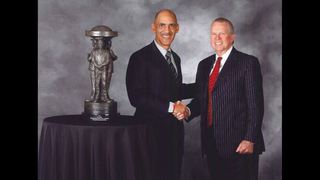 The award is meant to recognize an individual for their "uncommon leadership through character and faith," and seems tailor-made for Sparks.
"It's very humbling," Sparks said at the time. "To know that it's not about you. To know that a guy coaching at Carson-Newman, who has chosen to be at Carson-Newman for most of his career, it means a lot that the Lord can encourage him by letting him know that what he's done does make a difference."
A Knoxville native, Sparks started his coaching career at 19, with a midget league football team when he was a freshman at the University of Tennessee.
"I walked down the aisle after I coached this little team and said, 'I believe the Lord is calling me to coach,'" he told 10News in 2014.
He transferred to Carson-Newman and joined the football team, because he felt in order to coach, he needed to play.
After an injury in his senior year, the coaching staff asked him to help out by scouting opponents. From there, he went on to be the head coach at Gibbs High School in Knox County.
His coaching journey took him to Tennessee Tech, Morristown East, Carson-Newman, Farragut and back to the Eagles as head coach in 1980.
RELATED: Carson-Newman's Ken Sparks mic'd up 2003
And despite numerous opportunities, including offers from Division I and even the NFL, Sparks always felt he was where God wanted him to be--- at Carson-Newman.
Athletics Director Allen Morgan said the search for the next head coach at Carson-Newman will begin immediately. He plans to meet with the coaching staff on Tuesday and go from there.