Tuesday's open house turned out so well the Tennessee Smokies want to do it again this week.
On Friday, the Double A Cubs affiliate will once again throw open the doors of Smokies Stadium to welcome fans.
That also happens to be the first home game for the National League Cubs in this World Series against the American League's Cleveland Indians.
Doors at the stadium off Interstate 40 at Exit 407 are expected to open at 7 p.m. Friday. First pitch at Wrigley Field in Chicago is set for 8:08 p.m.
The forecast looks to be great: clear skies with a high in the upper 70s and a low going down to the lower 50s.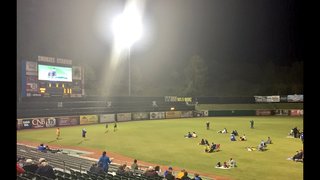 Fans turned out Tuesday night, the series opener in Cleveland, to eat, sit on the field and watch the game on the big videoboard. That's hard to beat if you're a baseball fan.
Smokies personnel announced plans for the second open house over the public address system Tuesday as fans milled about the ball park.
Said Connor Pearce of the Smokies' PR department: "We will have buffet options, merchandise for sale, videoboard, tv's, etc. We are looking forward to hosting another open house on Friday, as this one was a great turnout and we enjoy seeing all the fan support. It should be very similar to this one with everything going on!"
Tuesday's free open house included wine, liquor and beer for purchase, giveaways and discounted merchandise.