A fast moving storm caused damage throughout Middle Tennessee, including injuries to a 12-year-old boy who was reportedly hurt when a large tree fell through a mobile home on Riley Road in Clarksville.
The large tree crashed through the trailer destroying the structure and furniture inside as mud and rain filled the home. The boy, Francisco Rojas, was taken to the hospital with injuries to his back and legs, according to his brother Adrian Rojas. His mother, Elizabeth Rojas, said later the boy's fingers were broken.
RELATED: Severe storms hit Middle and East Tennessee
The Nashville Weather Service said there are no confirmed tornadoes touching down in Middle Tennessee during the severe morning storm but the region is still under a tornado watch until 10 a.m.
But NWS said it will investigate storm damage in Cool Springs and Brentwood in Williamson County, Nunnelly in Hickman County, Belle Meade and southeast Davidson County and Watertown in Wilson County.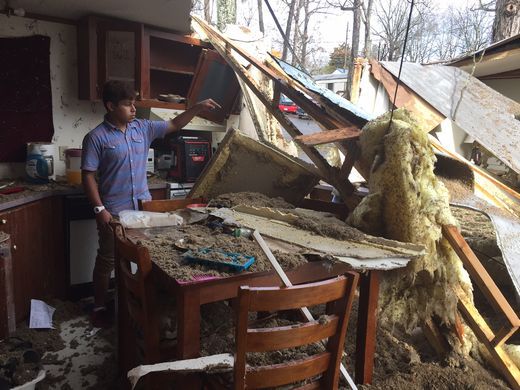 After the morning storm hit, thousands are without power in Davidson, Wilson and Williamson counties. Nearly 7,000 Middle Tennessee Electric Membership Cooperative customers — the vast majority in Williamson and Wilson counties — are without power, according to the power company's outage map. About 10,500 Nashville Electric Service customers are without power, too.
Cumberland Electric Membership Corporation, which serves five Midstate counties, reported 1,100 customers without power.
The Wilson County Sheriff's Office reported a tornado may have touched down in the Watertown area near South Commerce Road. The roadway is blocked and motorists are being asked to avoid the area.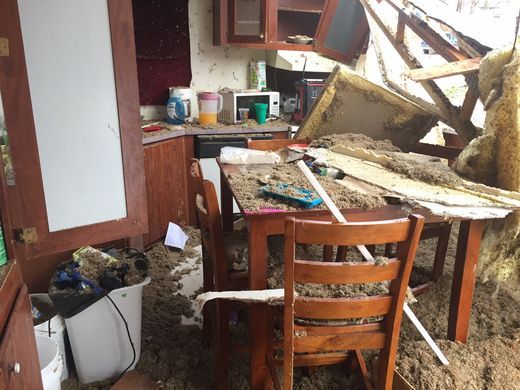 Significant damage has also been reported in Franklin on General George Patton Road at Brentwood Pointe and nearby businesses, authorities said.
According to Franklin police, carports at several homes have collapsed onto cars in the area. Damage to a nearby warehouse is visible in the 1600 block of Mallory Lane. Franklin police described damaged at a SunTrust bank drive-thru in Cool Springs as major.
"It was terrifying!," said Murfreesboro resident Brittany Kirby who saw the storm as it passed over Interstate 65 near the Cool Springs Boulevard exits.
"Part of the roof on the hotel next door blew off," said Leslie Morrow, who works at Delek US in Brentwood. "Some cars were damaged in our parking lot. I'm glad it didn't get worse than that for us, but it was still scary!"
In Rutherford County minor damage was reported at the Smyrna airport, according to the Rutherford County Emergency Management Agency.
Other minor damage in the county included a report of a tractor trailer blown over.
In Nashville there were reports of trees damaging cars near Vanderbilt University's football stadium.
Wind damage has also been reported in the Whites Creek area of Davidson County where winds knocked out windows at several homes.
The storm knocked down trees in Wilson County along the Rutherford County line, said Lisa Marchesoni, spokeswoman for the Rutherford County Sheriff's Office.
Mt. Juliet Police reported a downed tree on Curd Road near north Mt Juliet Road blocking the roadway.
Also, police said a lightning strike hit a home in the 3000 block of Kingston Circle in Mt. Juliet. No injuries have been reported so far.
The majority of Middle Tennessee is under a tornado watch until 10 a.m. including Davidson, Williamson, Rutherford, Cheatham, Montgomery, Robertson, Sumner and Wilson counties, according to the National Weather Service in Nashville. Nearly all of the region is included, save for Lincoln and Franklin counties.
Winds of about 60-70 miles per hour hit Middle Tennessee just after 7 a.m., according to the Nashville National Weather Service. Borden said severe storms hit Davidson county around 7 a.m.
Due to the threat of severe weather, Cheatham, Dickson, Sumner, Robertson, Hickman, Clarksville-Montgomery, Houston and Stewart county schools opened two hours late.
Grundy County schools are closed, school officials reported.
Metro schools opened on time. According to school officials, children late to school because of storm concerns will not receive tardy.