The Federal Aviation Administration expects thousands of new commercial drones to take flight next year under its first set of comprehensive drone regulations.
Under the new rules, which went into effect last week, commercial drone pilots now have to pass a written exam to get certified. Then, pilots can fly remote aircrafts up to 400 feet in the air in the daylight as long as the drone is within line of sight -- with some exemptions.
"Most of the commercial drone users today are aerial photographers, filmmakers, real estate agents, surveyers, farmers, people like that," drone enthusiast Joshua Bardwell said.
He's part of a group of Knoxville drone operators who meet every Sunday at Lakeshore Park to race their aircrafts through an obstacle course.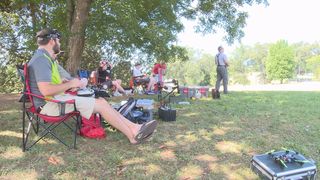 The group, called Knoxville Multi-Rotor on Facebook, mostly flies for sport. While some members do use drones for their various businesses, those who fly for hobby say it's not yet clear how the new regulations will affect them.
"I've heard some debate as to whether non-commercial pilots are required to be certified, and also what actually constitutes a commercial pilot," Bardwell said.
Co-organizer Ryan Bolt agreed. "The new regulations don't expressly affect us yet. That is our interpretation," he said, adding, "the FAA has been a little big vague on the hobbyist level."
Bolt said he expects stricter regulations in the future, but he remains optimistic for the future of drone use.
"I think there will be a lot more automation in drone use, especially in the business sector," he said.
Companies like Amazon Prime and Google have already begun experimenting with drone-based delivery services, and an increasing number of small businesses are catching on too.
Within the next year, the FAA expects 600,000 commercial drones to fly.
The agency anticipates its new rules to generate $82 billion for the economy and create more than 100,000 new jobs over the next 10 years.
"I don't see drone growth diminishing at all," Bolt said. "It's going to continue to have explosive growth."
(© 2016 WBIR)