KNOXVILLE - Local businessman and Tennessee Smokies owner Randy Boyd and his representatives held preliminary talks with Knoxville officials in February and also as far back as 2014 about relocating the baseball team from Kodak to the Old City area.
According to a series of emails secured Wednesday by WBIR 10News under the state's open records law, Boyd discussed the matter with several key members of Knoxville Mayor Madeline Rogero's administration and members of a private foundation that benefits East Tennessee initiatives.
"My current plan is to wait to the last year or two so my penalty is minimal," Boyd wrote in a Feb. 11 email to Christi Branscom, the city's chief operating officer. "On the other hand, I might be able to negotiate a better long-term win-win with Sevier/Sevierville. I can share some ideas on that. ..."
Emails show officials also discussed the possible price for a new stadium - as much as $39 million.
Informal talks were still going on six months later, emails show.
"Randy Boyd has been associated with the possibility of a future downtown baseball stadium in Knoxville," Doug Kirchofer, the team's CEO, said in an Aug. 29 email to Branscom. "This connection is a natural consequence of Randy's existing investment and interest in downtown development as well as his ownership of the Smokies."
Kirchofer wrote last month that the suggestion of a new ballpark "may be in the very early stages of discussion," but that Boyd would "closely follow any such proposals that may take shape."
He noted to city officials recently that building a stadium "is typically a lengthy process" and involves "many community stakeholders and many diverse interests and objectives."
"The Smokies believe that the interests of our fans . . . will be best served by listening and gathering information needed to assess future options – even if those considerations may be years in the future.," he wrote in late August 2016 to Branscom.
2014 emails
The Smokies' potential move back to Knoxville caught the attention of at least one Knoxville City Council member in 2014, an email shows.
"If, if, if Randy Boyd would bring the Smokies back to Knoxville, think about locating them at Chilhowee Park," wrote Councilman George Wallace in May 2014 to Lyons. "Take a look at the new stadium proposed for the Atlanta Braves (in Cobb County, Ga.) and think about how well a baseball stadium would complement that (Knoxville) Zoo, development of the Magnolia corridor and what a dinosaur the park is now. Think about it!"
In August 2014, Laurens Tullock, president of the Cornerstone Foundation of Knoxville, sent an email to Bill Lyons, the city's chief policy officer and Bob Whetsel, the city's director or redevelopment at the time.
"As I understand it, my job is to figure out how we can come up with a proposed optimal site for a new baseball stadium, researched by the private sector and philanthropic community . . . " he wrote.
His correspondence came weeks before the Urban Land Institute came to Knoxville to talk with city officials about the future of various sites downtown. Tullock specifically notes the "Knoxville Railyards Area."
The discussions came as Boyd – who is also the state's economic and community development commissioner – was negotiating his recent $6 million purchase of one of the Knox Rail Salvage properties and a nearby parcel in the Old City.
Boyd adds to holdings
In all, Boyd now owns an 11-acre footprint in that area – probably enough to build a minor league baseball stadium.
Tullock in August 2014 also held discussions with Craig Meyer, an urban designer with Populous, a Kansas City-based architectural firm. Meyer and his team later met with Boyd to work on drawings of a potential stadium.
More than a year later, baseball remained on Boyd's mind, an email shows. It came up in a Nov. 19, 2015, email from Boyd to Branscom.
"Btw, will I see you and the Mayor tomorrow? I'd like to give you a quick positive update on baseball," he wrote.
Boyd in recent weeks also has held brief discussions with Sevier County and Sevierville leaders about the Smokies leaving Sevier County and the future of the $19.4 million stadium off Interstate 40 where the team has played since 2000.
Sevier County and Sevierville issued bonds years ago to pay for the stadium, which the Smokies lease for $300,000 a year.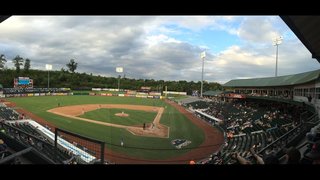 Sevier County Mayor Larry Waters and Sevierville Mayor Bryan Atchley on Friday told WBIR that they expect Boyd to keep the team there and live up to the terms of the lease, which expires at the end of the 2025 season.
Stadium lease terms
Boyd bought the Smokies, a Chicago Cubs' Class AA affiliate, in June 2013.
Guidelines were built into the lease that would require the team to pay off existing debt service, which would include interest on the initial bonds, if the team were to leave prior to 2025.
For example, if the team were to leave today, that could cost as much as $10 million, according to the contract.
For months, rumors have swirled that Boyd would bring the Smokies back to Knoxville.
On Saturday, he issued a statement to WBIR that he had "no plans in place" for his newly purchased Old City property near Jackson Street.
"It's also no secret that I've had conversations with officials in both Sevierville and Sevier County, as well as in Knoxville, about the different options the Smokies could explore down the road, because ultimately, it is the communities that build and support stadiums," he said. "But those conversations are in the earliest stages of looking for a long term "win-win" plan."
Boyd added that he has "the highest regard" for the fans and community partners in Sevierville and Sevier County and that he's "enjoyed a great working relationship there" and will "continue to invest in Smokies Stadium and look for ways to create the best possible experience for our fans in the years to come."
(© 2016 WBIR)