On Sunday, dozens of displaced UT students moved back into their temporary hotels after checking out all of their belongings for game day weekend.
In July, The Standard At Knoxville -- a privately owned, off-campus student housing facility -- told tenants it faced unexpected delays in construction. The company offered to place hundreds of students in hotels in the meantime.
But last week many learned they would have to check out entirely by Thursday or Friday, since some hotels had already booked those units for game day weekend before extending their contracts with The Standard.
"It's just really, really inconvenient. I cried yesterday because I was so stressed about it," one UT senior, Kaitlin, told 10News. Kaitlin declined to give out her last name.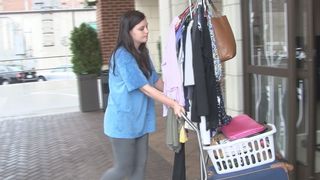 She has been staying with friends in the meantime.
"I didn't have a key. Whenever they were there, I had to go in and sleep on an air mattress," she said.
According to a verified email The Standard sent to its tenants on Wednesday, students staying at the Hilton Garden Inn and the Four Points Sheraton had to check out by Thursday at 3 p.m. and Friday at 11 p.m., respectively.
Students were allowed back into their rooms after Sunday at 3 p.m.
Neither hotel immediately returned 10News' request for comment. On Friday, Four Points' General Manager Jenny Gaunt did confirm that one-third of its units were occupied by displaced tenants from The Standard.
Students at both hotels say they will have to move out again in time for next week's football game too.
"We have to move out again on Thursday morning, and I have two tests that day and it's the job fair too, so it's not the best. Not ideal," Kaitlin said.
UT junior Lauren Hood, who is staying at Four Points Sheraton, agreed. "We were told we would have to move out for next weekend as well, but at least we were given a little more time to plan ahead this time."
Hood says she does not yet have a plan for where to stay.
A spokesperson with Landmark Properties, which owns The Standard, maintains the apartments should be ready by no later than October 12.
The spokesperson said tenants can terminate their lease with no penalties after the 12th if their unit is not ready. In the meantime, it is providing weekly $125 VISA gift cards to displaced tenants and offering rental account credits to those who choose to stay with friends rather than the offered hotels.
On September 16, the company agreed not to charge tenants for additional rent until their unit is ready.
MORE: Hundreds of UT students displaced after move in delay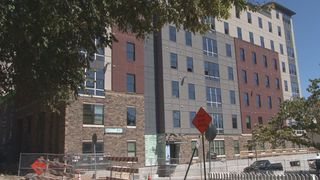 (© 2016 WBIR)