KNOXVILLE - Nearly a month after the start of classes, hundreds of University of Tennessee students are frustrated their off-campus student apartments are still not ready for move-in, despite having signed leases weeks ago and paid two months' rent.
In July, The Standard at Knoxville -- a new off-campus student housing facility located near Cumberland Avenue -- told tenants it faced unanticipated delays in construction and would not be ready by the original Aug. 13 move-in date.
Instead, residents of the 672-unit building would have to wait until mid-to-late September to move in.
Then on Friday, the company emailed students that they may have to wait as late as October 12.
To compensate, The Standard has sent weekly $125 VISA gift cards to its tenants and offered displaced students two options: They could either stay in one of five nearby hotels, or they would be given a credit to their account if they decided to stay with friends or family.
Third-year student Bailey Benson appreciates the gesture, but said living out a suitcase for weeks has impacted her college life in more ways than one.
"I don't have anywhere to study here," she said. "If I were at The Standard, I'd be a street away from the library."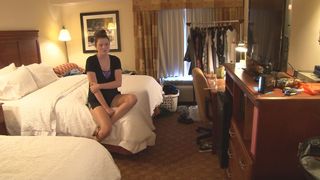 Benson has been living in the downtown Hampton Inn for nearly a month. After weeks of staying in the hotel with a roommate, no kitchen, and limited drawer space for clothes, her mother finally brought her a makeshift clothes rack. Still, she said she is struggling to make a home out of the small room.
"I was really looking forward to having a kitchen, and a bigger refrigerator with a stove, and just being able to come home and make dinner," she said.
Instead, she has been forced to eat out nearly every day.
A group of frustrated tenants started a Facebook page entitled Stranded by the Standard. Some students on the page suggested the company should let them break their contract with no penalties.
The "About" description reads:
We are tired students and parents that signed a lease at The Standard in Knoxville and have yet to move in. We are living in hotels and sleeping on friend's [sic] couches. As students we are trying to study, pass classes, march in football games, socialize all from a hotel room. Our rent is extremely high and we were promised amenities and move in dates that continue to change. We are tired of it and want something done.
The developer, Landmark Properties, told WBIR 10News the delays were due to unanticipated construction issues and a tight labor market.
A company spokesperson admitted to an overly ambitious timeline, saying most of the company's background involved developing cottage projects rather than urban infill projects like The Standard, which take longer to construct.
In a statement to 10News, the spokesperson wrote: "We still anticipate the majority of residents being able to move-in during mid- to late-September. It is possible, however, that a number of residents will not be able to move in until the last few days of the month or early next. We recognize the frustrations created by move-in delays and deeply regret the inconveniences being realized by our residents."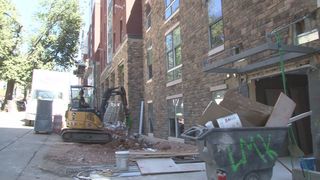 Meanwhile, students like Benson have now paid two months of rent for an apartment they are not living in.
"It's just so much uncertainty as to when we're going to move in," Benson said.
A Landmarks Properties spokesperson says tenants can terminate their lease at no penalty if their unit is not ready by October 12.
On September 16, the company also agreed not to charge tenants for additional rent until their unit is ready.
(© 2016 WBIR)