KNOXVILLE - A wanted man who shot a Knoxville Police officer at an East Knoxville motel in 2015 pleaded guilty Monday.
Matthew Pryor, 30, will serve 50 years behind bars for the attempted first-degree murder of Knoxville Police Officer Jimmy Wilson. He will serve an additional 50 year federal sentence for a similar incident in Florida, ensuring that Pryor will spend the rest of his life behind bars.
WATCH: KPD officer shooting
The chain of events started on May 19, 2015 in Miami-Dade County, Florida, when four officers tried to serve an arrest warrant on Pryor at his mother's home. He fled out a back window, firing at officers and striking one of them as they chased him.
He got away and was eventually tracked to Knoxville, in a Nissan Rogue he'd carjacked along the way.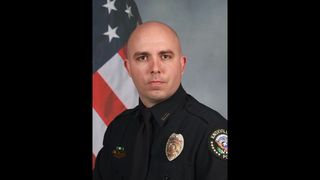 Officer Wilson spotted that stolen vehicle at the Value Inn motel on Magnolia Avenue on May 20, 2015. He called for backup, and with two other officers they began knocking on doors.
KPD released video of the incident, where you can clearly see the three officers approach Pryor's door.
Suddenly, the suspect opened his door and shot one time, striking Officer Wilson in the chest area. Wilson scrambles away, and you can hear the other officers asking him if he's okay.
"Yeah, I'm good man. I think he just got my vest. That's what it feels like anyways," he said.
All three officers stand to the side of the door with guns drawn. You can hear them talking to each other, and also ordering other people to stay inside their rooms.
The officers called for the Special Response Team and negotiators who eventually talked Pryor into giving himself up.
District Attorney General Charme Allen said she was very thankful that Wilson was wearing a protective vest, because this "could have been a very different press conference."
Wilson, a nine-year department veteran, was released from the hospital later that evening.
Chief David Rausch said he was very proud of the way his officers conducted themselves, and the video showed Officer Wilson's "mental toughness" in continuing after the shooting. As he pointed out, the protective vest limits the injury, but that doesn't mean you don't feel the bullet or have injuries as a result.
Chief Rausch choked up when he talked about getting the call Officer Wilson had been shot. He said, "You just got to see them," to make sure they are okay.
Officer Wilson said he doesn't remember the impact of the bullet, which went through two layers of his bullet resistant vest, but did not reach his body. He says he remembers the gun powder hitting his face after the shooting.
"You just fall back on your training," he said.
Wilson said he had some bruising on his chest that lasted a couple of weeks, but no broken bones.
He is still on the job, and said he doesn't dwell on the close call.
"You have to move on," he said. "You can't focus on that or you can't do this job."
"The vest did it's job," said Chief Rausch.
Officer Wilson said the importance of wearing the protective vest is the biggest lesson he learned from the shooting, and that he now shares that with every officer he meets.
"I was never one of those who would pat people on their back to feel it," he said. "I'm now one of those guys because I know how important it is."
(© 2016 WBIR)