KNOXVILLE - Dozens of students and LGBT allies rallied outside the University of Tennessee's Pride Center on Saturday, after someone vandalized a rainbow-colored flag outside the center last week and left a message inside with a homophobic slur.
The flag, which students originally placed outside the Pride Center in the wake of the mass shooting at Pulse Nightclub in Orlando, still stands ripped on the yard.
Pride Center ambassador Chesnea Skeen sent a statement later Sunday afternoon, saying ambassadors were told Friday by UT administrators to remove the remaining flags from the center.
Danny Glassmann, the associate dean of students and liaison to the Pride Center, responded to the claim, saying the university did not ask them to remove all the flags. Instead, he said UT provided the students with a copy of policy that states no signage such as flags should be placed outside buildings on campus.
"This is not a new policy and was shared with students in case they were not aware of the policy," Glassmann said. "[It's so] they could begin brainstorming ways to honor the spirit of the flags and be in alignment with University policy.
Saturday's demonstration was a response to what students at the Pride Center say was a targeted act of hate on their campus.
"Students deserve a space where they can feel safe, like they belong on this campus," UT Pride Ambassador Chesnea Skeen said to a crowd of nearly 70 students, activists and faculty members.
Several students took to a megaphone to express their frustrations.
"Queer students on this campus were left a message," one student said to the group. "We were told that we are not safe, we are not wanted and that we do not matter."
Despite many students' expressions of anger and hurt, many students walked away feeling empowered by the sense of solidarity.
"It's finally nice to find people who have gone through the same situations as I have, and learn from them," said freshman Madison Oldendorf.
Students also wrote loving messages on a banner along the sidewalk.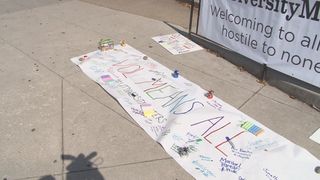 Some say it's not the first time an LGBT space has been targeted on campus.
According to Skeen, someone broke a window near the Pride Center in the winter, and over the summer someone scratched out the letters "LGBT" on their sign outside the building.
UTPD is asking for the public's help to identify the latest suspect by contacting them via 865-974-3111 or UTPolice@utk.edu.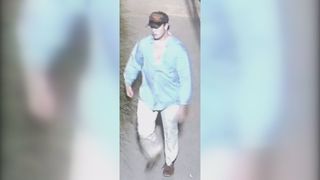 Editor's note: This story has been updated to reflect the latest information from the Pride Center and UT faculty.
(© 2016 WBIR)