The University of Tennessee and Virginia Tech stand to make millions from their Saturday "Battle at Bristol," a 17-page license and operating agreement shows.
The document, obtained by 10News, was prepared in 2015 and signed in April 2015. It calls for each team to get a guaranteed $4 million if they sell allotted shares of 40,000 tickets. They've done that.
Back in 2015, each team had guaranteed it would sell at least 25,000 tickets.
In addition, the agreement calls for extra revenue based on the aggregate total sales or allocation of tickets. For example, if at least 132,500 tickets were sold, which is expected, then each team is guaranteed another $200,000, according to the agreement.
The document was signed April 9, 2015, by UT athletic director Dave Hart, Virginia Tech athletic director Whit Babcock and Jerry Caldwell, executive vice president and general manager of Bristol Motor Speedway LLC.
The universities' pact with Bristol Motor Speedway, or BMS, shows just how many details go into planning a major event such as Battle at Bristol.
More: Final prepwork underway
Related: Watch out for fake tickets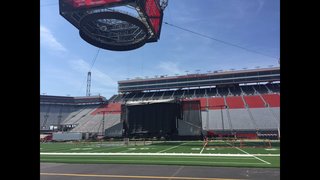 For example, both teams agreed Big 10 Conference officials would handle the game itself, with UT coordinating the assignment of officials.
There'll be an extended halftime that will include both marching bands. The speedway is picking up halftime entertainment costs that do not include band expenses.
By agreement, each team has a host hotel. UT's is a Marriott, with 135 rooms to be set aside at a "preferential rate." Virginia Tech will be at a Holiday Inn, also with 135 rooms.
They'll get the rooms for Friday night with a late checkout Saturday.
After checking with the teams, BMS is putting together a program for sale with a custom cover. Each team will get an equal number of pages in the program and each gets a full-page ad at no charge for conference or "institutional messages."
Within the speedway itself, each team gets three complimentary luxury suites. But they'll have to cover the costs of food and beverages in the suites. Both teams also are getting 100 reserved parking spaces for users such as the teams, the bands, and the cheerleaders.
As for branding, Bristol Motor Speedway will provide "an event specific uniform patch, helmet sticker and logos" that the coaches can wear on the sidelines, the agreement states.
Food and drinks also play a key part in the pact.
The speedway is operating all concessions and catering. And it can sell alcohol, something that doesn't happen at Neyland Stadium, as Vols fans know.
"BMS may sell alcohol during the game, provided that BMS will utilize alcohol awareness best practices for the Event, consulting with promoters for similarly situated Events for guidance, and any such sale is in accordance with NCAA policies," the agreement states.
(© 2016 WBIR)