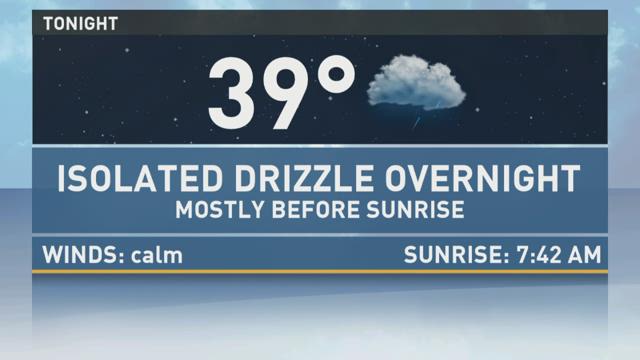 Partly sunny, rain overnight WBIR
Tonight: Skies gradually clear overnight ,allowing for the formation of fog. Low 31.
Tomorrow: Winter officially begins tomorrow! Fog is slow to life so we see mostly cloudy skies through the day, with slightly more sun in the afternoon. Highs in the upper 40s.
Next week: Mild on Monday- highs in the mid 50s. Slight chance for drizzle, but most areas just see increasing clouds. Tuesday, an approaching cold front brings increasing rain chances through the day. Rain showers with breezy winds continue Wednesday, and after the cold front passes Wednesday afternoon, any wrap-around precipitation could switch from rain to ice & snow, especially in the higher elevations. A few light snow showers may linger overnight into Christmas morning, but then we should see clearing through Christmas Day.
Have a great Weekend and travel safely!!

Read or Share this story: http://on.wbir.com/15M87nl