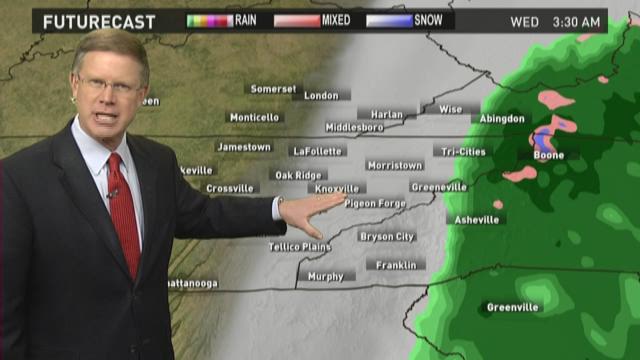 Meteorologist Todd Howell has your forecast WBIR
Tonight: Mostly cloudy overnight with a chance for light rain showers late, mainly east of Knoxville with accumulating snow possible in the Mountains and Upper East TN area by early Wednesday morning. Lows stay above freezing near 36 degrees.
Wednesday: Temperatures will trend cooler with highs back down into the middle 40s. There's a chance for a few showers early in the morning followed by partly cloudy skies in the afternoon. By Wednesday night things get interesting as there's another chance for the rain showers to convert to a little light snow late overnight into early Thursday morning with lows approaching freezing.

Thanksgiving Day: We'll start off Thanksgiving with a chance for light snow showers and flurries early in the morning, followed by clearing skies in the afternoon. The Mountains will once again will see the best chance for accumulating light snow showers. High temperatures will be colder in the upper 30s to lower 40s.
Friday into the Holiday Weekend: Sunshine and cool weather remains Friday and Saturday, with temps gradually warming through the Weekend from the 50s into the lower 60s, and mainly dry with increasing clouds on Sunday.
Have a great Thanksgiving Week and travel safely!!
Read or Share this story: http://on.wbir.com/15M87nl