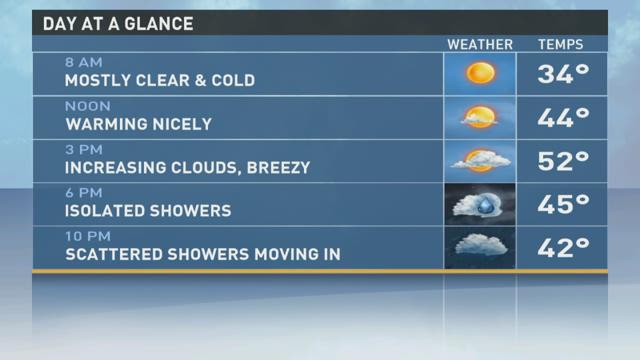 Mild today, cold tomorrow WBIR
Today: We begin the day clear and chilly but see a quick warm up into the 50s through the early afternoon with a nice breeze. Increasing clouds through the afternoon give way to scattered showers after sunset.
Tonight: Isolated rain showers continue overnight, and the plateau & mountains have a slight chance at a wintry mix tomorrow morning. Chance of rain 50%, Low 35.
Monday & Tuesday: Mostly cloudy & cold with highs only near 40. As far as precipitation goes, areas to the north and east of Knoxville see a 20% chance of a wintry mix each day, while areas to the south and west remain dry. Mountains will see light accumulations through Wednesday morning.
Rest of Week: Clearing skies Wednesday and warming into the upper 40s Thursday, then another system brings us isolated showers Thursday night into Friday.
Have a great weekend!!
Read or Share this story: http://on.wbir.com/15M87nl