GATLINBURG, Tenn. — Spring Break will become Spring Blake this March in Gatlinburg!
Country star Blake Shelton's Ole Red Gatlinburg is planning a week-long grand opening celebration from March 11-17 but there will be some shows happening as early as Monday, March 4.
The restaurant and performance venue is located at 511 Parkway in Gatlinburg near the Margaritaville resort. It will be the third Shelton-inspired bar, restaurant and music venue owned and operated by Ryman Hospitality Properties, Inc. The first was in his home town in Oklahoma and the second in Nashville.
According to OleRed.com/Gatlinburg, The Reunited will have a show at 11:30 a.m., Stephen Goff performs at 2:30 p.m. and Mike Snodgrass at 5 p.m. on Monday, March 4.
There will be multiple events throughout the week, including a grand opening private concert with Blake Shelton that you could win tickets to!
"Gatlinburg has always been a place where I've had a good time, and it's just awesome for me to get to be a part of this community through Ole Red," said Blake Shelton. "I can't wait to get my band down there to play – it's going to be an amazing night."
Ole Red Gatlinburg displays its many hues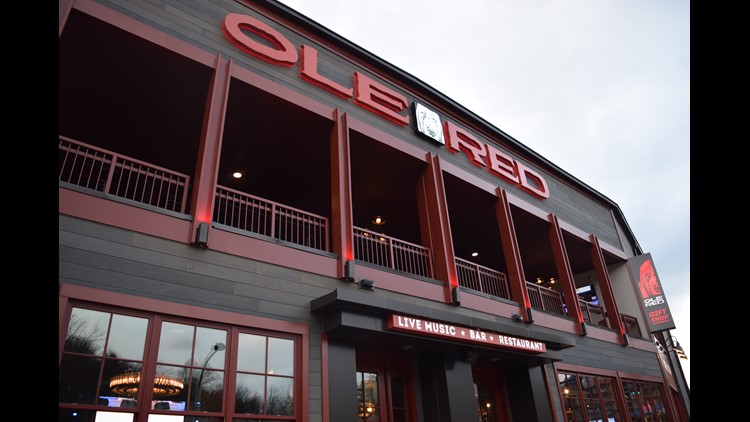 Starting Monday, March 11, you can catch live music starting at 11:30 a.m. and try the full menu, including signature items, such as the "Champagne of Fried Chicken," and Gatlinburg-only specialties, like the "Ober Gatlin-burger," plus Blake-approved cocktails and a great selection of local beers.
There will also be a "Spring Blake" scavenger hunt, in-venue giveaways and prizes, including a chance to see Shelton's private concert.
Ways to win tickets to Blake Shelton's private show:
Follow Ole Red Gatlinburg on Twitter, Facebook and Instagram for chances to win.
Listen for a chance to win on local radio.
Also that week, several former contestants on NBC's "The Voice" will perform, including Knoxville's Emily Ann Roberts.
March 14: Lauren Duski
March 15: Pryor Baird
March 16: Red Marlow
March 17: Emily Ann Roberts
Ole Red is currently open, but their grand opening isn't until March 13, 2019. Organizers with Ole Red said this has been a long time coming, but their excited to finally get the ball rolling.
As for the city of Gatlinburg, Marci Claude said this is just one more venue that makes the city special.
"We're just thrilled that Blake Shelton and his brand have chosen our little mountain town for his restaurant," Marci Claude, the public relations manager for the city of Gatlinburg, said.