Nikki Giovanni doesn't think of writing as a profession.
"I barely think of it as a career," said Giovanni. "I think of it as who you are."
To Giovanni, writing comes as naturally as breathing. It has certainly defined her and given her voice as an activist, an educator and renowned poet.
"I love poetry the way we love chocolate cake," she laughed.
Her love affair with words dates back to childhood.
"I was, I guess, an extraordinary reader," said Giovanni.
Born in Knoxville, she moved to Cincinnati at a young age, but came back every summer to be with her grandparents, whom she adored.
Looking back, she remembers the city through a black and white lens.
"It was during the era of segregation," said Giovanni.
Life was a small radius: church at Mt Zion Baptist, entertainment at the Gem Theatre and books at the Carnegie Library.
"It was a wonderful library. The Tyson McGhee library was the white library uptown," she remembered. "I didn't think of myself as being a big thinker, but I just let one book take me to another."
Giovanni moved in with her grandparents and studied high school at the all black, Austin High - now Vine Middle. And, her 9th grade English teacher was incredibly influential, encouraging Giovanni to write.
She went to her grandfather's alma mater, Fisk University and became an advocate for civil rights.
"What was the point of saying to someone you cannot eat here, you cannot drink here, you cannot try on clothes in this store," she explained. "What was the point? And, it needed to be resisted."
At 22, she published her own work.
"I didn't think anybody else would," said Giovanni.
She followed with a second book, "Black Judgment," which was mentioned in the New York Times.
"I think it's fair to say at that point, I recognized I'm going to have a career here," reminisced Giovanni.
To date, she's published 31 books and her poetry, like the poem, "Knoxville" is read by young and old.
"I work hard, and I'm glad that people appreciate it," she said.
Giovanni also holds 27 honorary degrees, 7 NAACP Image Awards as well as endless accolades including a Grammy nomination.
She also has two state historical markers in Ohio and Knoxville, Tenn.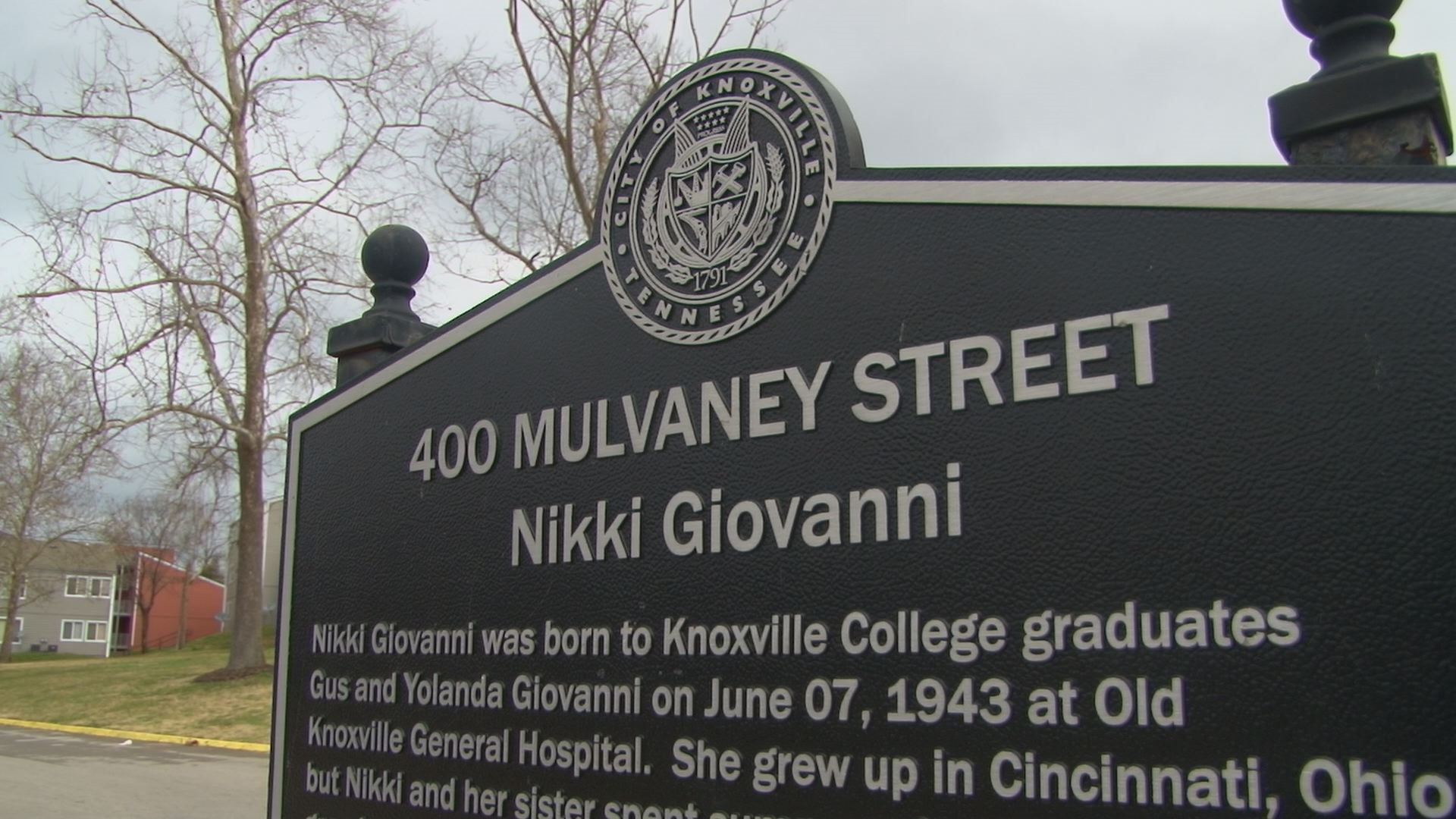 "I'm very proud of that (Knoxville marker) because all the rest of Mulvaney street is gone," explained Giovanni.
With strong will and incredible strength, Giovanni's survived lung cancer… and most of her friends and family.
"My latest book is called 'A Good Cry.' It's because of various sadness that have happened. And, I've lost a lot of people."
April 16th, 2007 certainly brought tears and tremendous loss at the hand of a student named Seung-hui Cho.
"Like everybody, I was so upset. I had him in class maybe for two not quite three weeks. And he just wasn't fitting."
After routinely asking Cho to leave her class, Giovanni gave him an ultimatum. Either he drop her class, or she would resign from Virginia Tech.
Cho never took her class again. After killing 32 people and wounding 17 others, he took his own life.
"The tragedy happened on a Monday and some people have said, 'Do you think he was after you?' And, I said, 'No because everybody knows I don't work on Monday,'" she said.
Virginia Tech turned to its University Distinguished Professor.
"The dean called and she said, 'Nikki we need you to anchor convocation,'" remembered Giovanni.
The poet found words when no one else could. And, her resolve and love for the Hokie nation is just as strong today.
"This semester i have a great class. I still teach because routine is important and I love the kids."
These days, she's reflective.
"I'm just incredibly lucky that I had great people around me," she said, happy to share her reflections with others. "We have to contribute something into the world in which we live and one of the things I hope I contribute is my view of that world."
"Knoxville is very special to me," she said with a smile.