NASHVILLE, Tenn — The Tennessee State Prison was opened on Feb. 12, 1898, just outside Nashville.
Built on a little over 1,200 acres for around a half a million dollars, construction took several years because each stone on the structure was handmade. Tool marks are still visible today.
"Each mark in those stones is the swing of an arm," said Chris Haley, the statewide facility maintenance manager for the Tennessee Department of Correction.
The first prisoner was a Madison County tailor named W.G. Cook, who made his own uniform, according to an article from TDOC's Correction Courier.
Inmates were expected to work in the farmlands, mills and factories on site. At one point, a train track ran through the grounds to load up the goods produced by prisoners.
Gallery: Tennessee State Prison
The prison was designed to hold 800 inmates, but the department wasted no time exceeding this limit by incarcerating around 1,200 people on opening day.
The 6-foot by 8-foot cells, which were designed to house one person, often held at least two inmates. Some even had four crammed inside.
The cell block housing units were five stories tall. TDOC chief interdiction officer Dan Strickland, who started his career at the prison in 1975, remembers climbing all of those stairs day after day in the un-air-conditioned building.
"It was hot in the summer and it was hot in the winter," Strickland said. "By the end of the day, you were ready to go home, take a shower, eat and go to bed."
The conditions in the prison were hard on inmates and officer alike.
The Tennessee State Prison was forced to close in June 1992 after a federal lawsuit and court ruling found it to be overcrowded and unsanitary.
Strickland said the closing prompted several changes in TDOC, especially in regards to acknowledging prisoners' needs. He said Tennessee is now a leader in rehabilitation and work release programs for inmates.
"I guess they think everybody's locked up all the time. That's not the case," Strickland said. "It's an honor for them to be out of their cells and working."
The closing also brought about more structure, better population management, better programs and better living conditions.
During its 120-year history, the prison has hosted both the famous and the infamous.
It was the setting of several movies like "The Green Mile" and "Walk The Line," and a number of singers, like Eric Church, have filmed music videos at the site.
On the other hand, cell block three once housed James Earl Ray, who assassinated Dr. Martin Luther King Jr. in 1968.
Despite its impressive architecture and rich history, it is not safe to enter the prison because of asbestos and other health concerns. Haley stresses it is still structurally sound.
Although, visitors are able to see the grounds for the annual Run the Green Mile 5K, which supports the historical fund.
TDOC officials say while the prison no longer houses inmates, the property overall is not abandoned and still used by the department.
UPDATE: The prison and its grounds took extensive damage in a tornado that hit Nashville on Tuesday, March 3, 2020.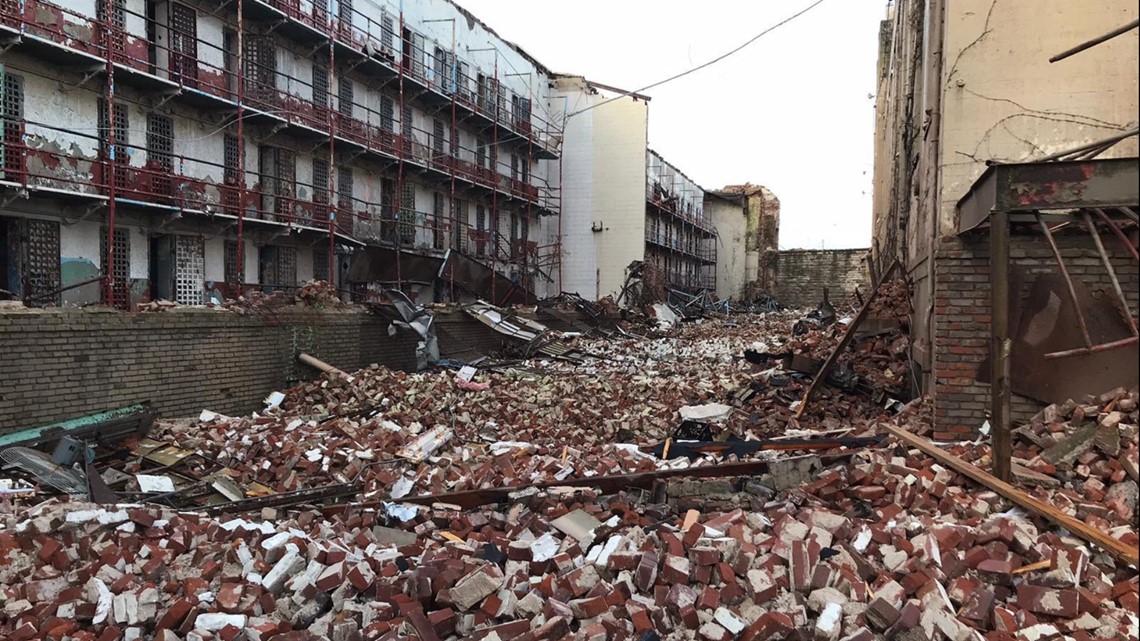 Reporter's note: Though many of these buildings are unused and empty, they sit on private property that is still actively used in some cases. DO NOT attempt to unlawfully enter any of these places without permission. Many of them are structurally unsound and pose potential health hazards, like asbestos and lead paint. 10News contacted all owners prior to visiting.
For more stories from Tennessee's Abandoned Places, check out our YouTube playlist: